ANN-SOFIE BACK
spring/summer 2009


Celebrities, plastic surgery and liposuction
Ann-Sofie Back investigates in her spring/summer 2009 collection celebrity culture, especially plastic surgery and liposuction. Take this collection with humour as it is intended!
Video: Interview with designer Ann-Sofie Back and catwalk show from the London Fashion Week, 14 September 2008. In this Topshop Podcast (Issue 38) designer Peter Jensen is the second one who is presented prominent by the London based edgy 'Topshop' (founded 1964) topshop.com.
The designer resembles with drawstrings on dresses the processes involved in a face-lift, uses frills to signify failed glamour. Involved in this collection are the causes of celebrities' obsession for plastic surgery: paparazzi with their enlightening flashes searching for the right moment to make a good - or not so good - picture. On tops and dresses you will find a print using an image of a flash. Liposuction and the deformation of the body to get an idealized figure is another theme which is expressed by mark-up drawings - signifying where the body has to be rebuilt - on shirts.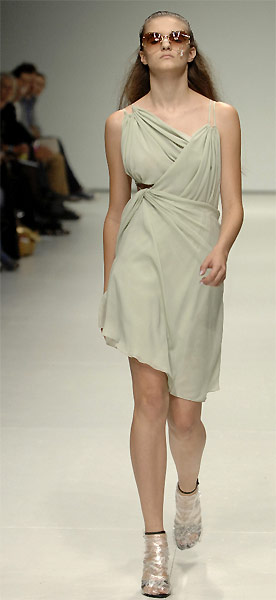 fig.: This mint colored chiffon disco dress is cut and stretched with drawstrings resembling the processes involved in a face-lift, while clasps are based on the staples used to hold skin in place during recovery.
Ann-Sofie Back uses frills on dresses, skirts and tops throughout the collection. The frills are signifying Ann-Sofie's observation of failed glamour.
fig.: The paparazzi print uses an image of a flash.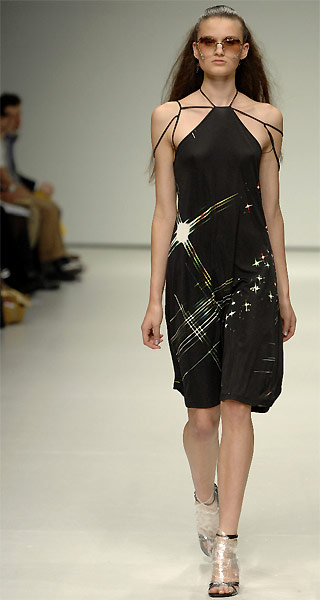 fig.: On this shirt you can see the mark-up drawings for lipo.

Photos: © Tim Griffiths

STYLING & CASTING: Robert Rydberg @ Linkdetails
HAIR: Rapahel Salley @ Streeters and team using Wella
MAKE UP: Linda Ohrstrom @ Naked Artists & team
JEWELLERY: Sheefun Chan for Ann-Sofie Back
Check out the site www.annsofieback.com.



more design>>>