Baum und Pferdgarten
Spring/Summer 2009
Baum und Pferdgarten dresses the New-Hippie in Arabic, Gypsy inspired pieces. The title of the new collection by the Danish designer label is "The Dawning of a New Era".

The Show begins with...
Video: Baum und Pferdgarten SS09 fashion show at City Hall, Rådhuspladsen, during Copenhagen Fashion Week on 7th of August 2008
Although the main collection is bold colored with typical eastern print over print combinations, the show begins with pieces in white - in every imaginable shade. The pureness of white is enhanced by transparencies and the colors' innocence by applied "angel feather"-frills. This woman is cool and sexy at the same time.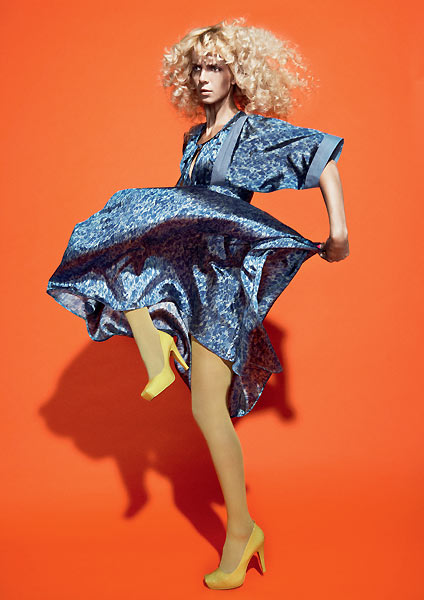 ... and makes a Statement
Baum und Pferdgarten seem to create their collections upon the idea to give the wearer the chance to leave everyday's life to learn more about the world and oneself.
Baum und Pferdgarten give confident women an opportunity to make a statement. The designer duo dedicates this collection to a woman who wears her confession: she is a citizen of the global village; she is defined by an effortless approach to enjoying life and has a willingness to learn from other cultures.
The Neo-Hippie's Silhouettes, Colors, Prints, Fabrics
Feminine and sexy are the soft and floaty silhouettes with accentuated slim waistline and tender shoulders.

Colourful silk dresses, vividly printed tunics and blouses in cotton or cashmere are combined with casual trousers or romantic skirts for the outfit of the Neo-Hippie. Traditional fabrics are set in contrast to high-tech textiles.

The Baum und Pferdgarten woman is the daughter of the flower child and the pilgrim of love. She expresses the edgy avant-garde eccentric of lively liberty and harmonious tranquillity.
Screaming pink, lemonade red, dusty purple and coral while playful touches of lime green and bright yellow complete the ambiance of summer.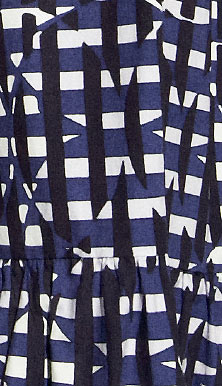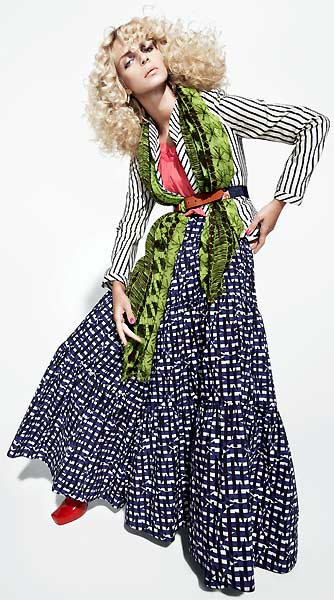 The prints are essential in this colourful collection – either graphic and dramatic or floral and miniscule. They feature exotic palm trees as they sway in a hot summer breeze, artistic forms with a multitude of folkloristic references or bright turquoise-blue aqua. The classic Baum und Pferdgarten stripes and check patterns are abundant in numerous re-interpretations.

The founders of the Danish label are Rikke Baumgarten & Helle Hestehave. Baum und Pferdgarten is based in Copenhagen. You can shop the edgy fashion of the two designers in the metropolitan cities London, Paris, Stockholm, Tokyo, New York, LA, Hong Kong, Oslo and Berlin. www.baumundpferdgarten.dk