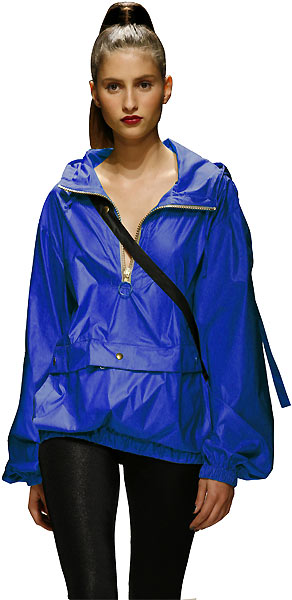 DELPHINE MURAT
spring/summer 2009


Another view on sportive clothing
Delphine Murat entitles her spring/summer collection 2009 "Sport Deluxe". The collection is made of the designer's famous "la Minisock", accessories made to be worn as a creative part of the shoes, "le legging" which enhances the anatomy of the legs, and the wearable sporty bag "Pack Z Rain".
To keep the collection waterproof and sportive, Delphine Murat uses technical fabrics.
fig.: Pack Z Rain © Copyrighted 2007 Rui Vasco/ModaLisboa All Rights Reserved
'Protect yourself from the rain with style' is the motto of the sporty, waterproof and unisex wearable bag "Pack Z Rain". The accessories & cloth appear in the new music clip by Julien Doré, where you can see Catherine Deneuve (!) wearing one http://www.youtube.com/watch?v=yV3ZiWu6JXg. It is available in the colors: black, blue, silver, gold, kaki, lilac, ...


About Delphine Murat
Delphine Murat has studied at Studio Berçot. She has worked for Alexander McQueen chez Givenchy, Martine Sitbon and Thierry Mugler.
In 2000 the label Delphine Murat was launched with the presentation of the first collection. Today, the label Delphine Murat is available in 27 countries at around 400 boutiques ... such as Barney's, Harvey Nichols, Saks, ... www.delphinemurat.com.


more design>>>


fig.: Sport Deluxe