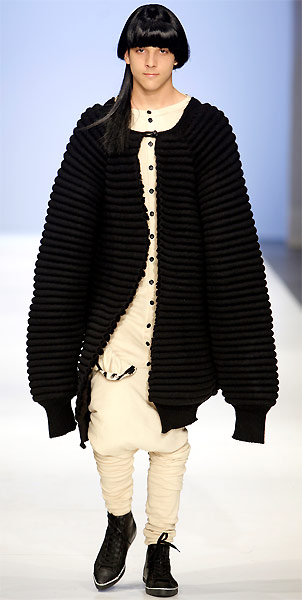 Anneloes van Osselaer
received the Lichting 2008 Award
and G-Star Raw Talent Award 2008
On 25th July 2008 the "Spuk & Grusel" (free transl. "Spooky & Creepy") concept collection by Anneloes van Osselaer, graduate from the Amsterdam Fashion Institute, received as the Lichting 2008 award winner at the grand finale of the "Lichting 2008" catwalk show in Amsterdam the G-Star Raw Talent Award.
Spooky & Creepy
Anneloes van Osselaer's playful creations under the title "Spuk & Grusel" (free translated "Spooky & Creepy") were inspired by mystic spirituality and outstanding thanks to the large, modern shapes of her dominantly woolen looks. The collection aims boys in the age of 16-22.
"This men's collection is inspired by an important mega trend going on at the moment in Europe: spirituality. Spirituality to me is a very mysterious, airy-fairy, dark and even creepy thing. This collection shows a parody on today's spiritual trend. Therefore the shapes and meaning of a spook or ghost and a bat have been used as a source of inspiration for this collection, in a very playful way. ..." Anneloes van Osselaer

The G-Star Award Prize
The award prize gives Anneloes van Osselaer the financial support of 10.000 Euros to deepen and extend her designer skills and offers the experience to join the production of the G-Star New York Fashion Week runway show in September 2008.
fig.: © PETER STIGTER TIJDENS AIFW WINNAAR ANNELOES VAN OSSELAER VAN LICHTING 2008 SUPPORTED BY G-STAR RAW
"... Designing to me is not about creating a total new shape, but about turning an in shape already existing piece of clothing -preferably one which is usually not that popular- into an attractive garment. That is why non-popular garments often are an important source of inspiration to me." Anneloes van Osselaer anneloesvanosselaer.com

'Lichting' presents the 20 best academy graduates of one year in 1 central catwalk show in front of 700 important professionals (media, fashion industry) to support the next step in the careers of the students.
The official Lichting 2008 website was launched on 21st July. You can find there all nominated 2008 designers. The digital platform allows the graduates to have professional exposure all year long, until the announcement of next year's nominees lichting.design.nl/.
fig.: LICHTING 2008 PRIJSUITREIKING DOOR REMCO DE NIJS VAN G-STAR TIJDENS DE FASHIONWEEK MET WINNARES ANNELOES VAN OSSELAER © PETER STIGTER