LUVIAN
fall/winter 2008

The Creative Feedback Process for Making Customized Fashion
The Luvian community of designers offers t-shirt and hoodie illustrations which you can criticise, discuss, vote for on the website luvian.eu. After one month the best designs are sold on the site! The winning artist participates on the purchase.
In early 2008 luvian.eu started with four designers. In September 2008 Luvian has already hosted 14 votings with a growing designer community. Luvian has received over 300 designs and produced 25 of them.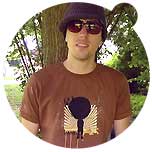 'We want to give young designers a chance to show their talent through a constructive process and bring their work into a commercial realm. We are about creativity, communication, youth, worldliness and of course fun!' – Luvian Team www.luvian.eu



more design>>>


fig.: Urban Afro, illustration by Mac Messer (born in Germany, living in Portugal, owner of a surf camp); uploaded in May 2008, since June 2008 available in the online shop of luvian.eu.

You can read on the shirt Luvian.eu's motto "eat your old shirts" and "Urban Styles 78". The motto makes sense with following posting: "I've become a professional shirt eater! Ha! I need more space for my new Luvian shirts."