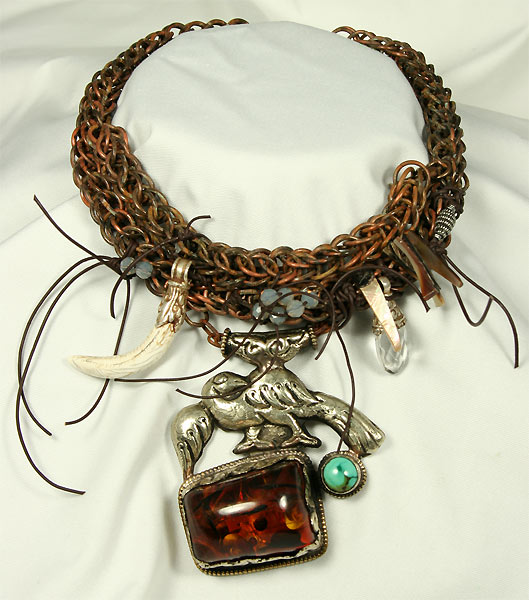 MARZIA G.
summer 2008
In Florida headquartered artist Marzia Delle Cave designs for her label Marzia G. wearable history. For the authentic stories she is inspired by the beauty of this world she experiences during her travels to some of the most beautiful places.
Immortality
fig.: The necklace is prominent decorated with a silver repoussé Phoenix Bird. The Phoenix bird is the symbol for resurrection, life after death. From the Ancient Greek mythology we know that this bird revives out of his own ashes.
Below him you can see the antique Asian amber. This "stone" - a secretion from trees - archives time. How many years are archived by this stone; who knows? 30–90 million years?
Right below the Phoenix you can see a small round turquoise. It is directly fixed on the specially antiqued copper chain. South American people believe that the turquoise protects from harm. The chain is decorated with a clear quartz/sterling silver small Asian pendant and opal Swarovski crystal beads.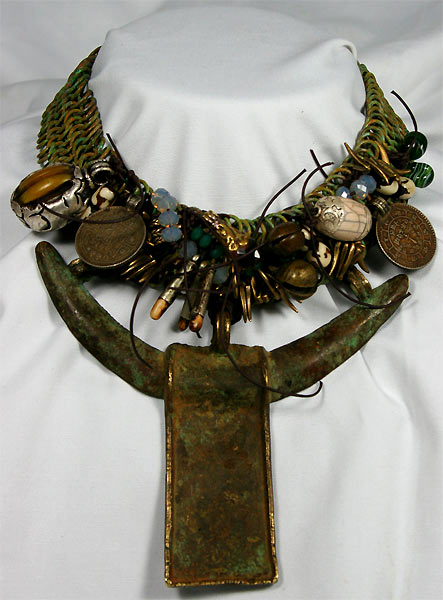 Every piece is handcrafted and authentic. Marzia G.'s designs capture the styles of the Eastern Europeans, Africans, Asia, Latin, ... Each of the pieces is different just like a painting or a sculpture.
African Dogon Culture
The artist is currently strong influenced by African culture, such as following piece shows:
fig.: For this necklace Marzia G. was inspired by the African Dogon culture. The Dogons are a group of people with own culture and language living in the Republic of Mali. Dogon belongs to the Niger-Congo language family. They are practising an animist religion. On this necklace it seems as the artist symbolizes a buffalo, in the culture of the Dogons an important animal.
The ancient Dogon African brass piece with specially antiqued copper handmade and beautiful colored chain has small antique Ethiopian brass fertility phallic mini pendants, antique Hindu coins, Swarovski crystal beads,...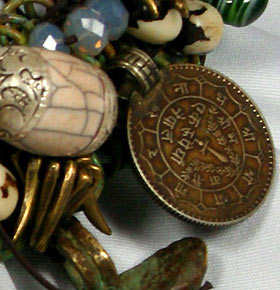 About Marzia G.
Marzia G. has over 30 years of experience in the world of fashion and art. She has got her first big break with COMPLICE a company based out of Caracas, Venezuela. They promoted her wearable art, and started to get more and more requests for designs by Marzia G. She became the executive designer of COMPLICE, and captured attention from top fashion agency Harry Weizmann Assoc. The company brought much exposure for Marzia G. designs.
Marzia G. is sold all over the world from top showrooms in Milan, Paris, Miami, New York, and many more. Check out Marzia G. Designs at www.marziag.com.