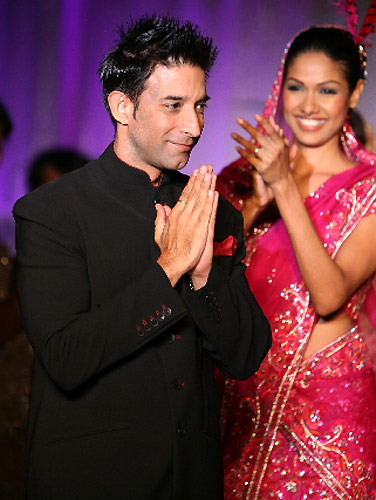 SUNEET VARMA fall/winter 2008/9

On 12 March 2008 Suneet Varma, one of the pioneers in the Indian fashion industry, presented his collection "Lure of the Orient" during the 11th edition of the Wills Lifestyle India Fashion Week Autumn Winter 2008 (12-16 March 2008) in New Dehli.
Lure of the Orient is about the impact of colonization on the lifestyle, clothing and thinking in most of South East Asia. Even in times of globalization you will find these influences. In Asia, the new superpower of the world, men and women wear traditional costumes, while National security is still strongly influenced: padded jackets, the Anglo-French tailcoats, the British tweed waistcoats, the riding breeches, the applets and the influence of cavalry.
Suneet Varma's collection combines these elements in a new contemporary clothing silhouette. Soft, drapy dresses with masculine ties in gold and leaf green (such as on the photos below) are inspired by Asia's history and contemporary cinema like "Pillow Book" or "My Favourite Concubine".
Check out an interview with the designer and catwalk show youtube.com/watch?v=Wpzxnm019HE

more design >

Suneet Varma graduated from the London school of fashion in 1986 and has worked for Donna Karan, Calvin Klein, Carolina Herrera, Nicole Miller, Nicole Farhi, Yves Saint Laurent. Suneet Varma is the founding member of the FDCI (The fashion design council of India). His costume for the award winning movie "Monsoon Wedding" was nominated for an Oscar.