ALEXANDER WANG
fall/winter 2009/10


Fashion that reflects a wide horizon
Californian born in New York living designer Alexander Wang presented his fall/winter 2009/10 collection during the Mercedes-Benz Fashion Week on 14th February at the Roseland Ballroom in New York City.
Video: Alexander Wang fall/winter 2009/10 from the runway during the New York Fashion Week on 14 February 2009. By youtube.com/user/ErichBen
Alexander Wang's monochrome color concept of black and white widens the focus on the tailoring of the asymmetric dresses, armor inspired metallic pieces, sportive legwear in cyclist and torero style, white bondage dresses which could be inspired by African ritual body painting or the Asian bondage culture, motorcycle jackets...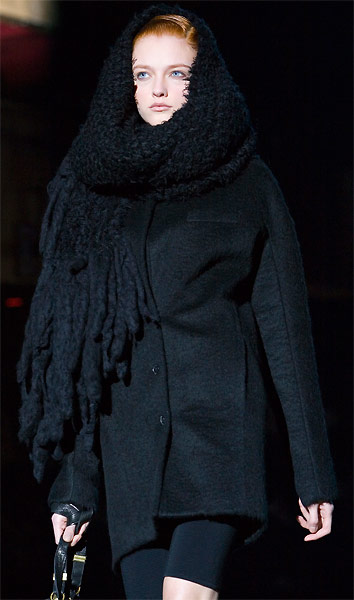 fig.: Alexander Wang fall/winter 2009/10, catwalk presentation during the New York Fashion Week on 14 February 2009. Designer Alexander Wang showcases a handknit scarf with Australian Merino dreadlocks. Photo: © 2008 Stephanie Badini. All rights reserved.
Nature, Rock'n'Roll, Cosmopolitan
You will find in this collection structured fabrics with alligator animal imprint which express the natural wildness of animals which vibrates sexy through the whole collection. The punky biking boots, some of them are laced and made of the same material as the trousers, bring the touch of lippy-elegant Rock'n'Roll.
The San Francisco raised designer with Chinese-American heritage, is fusing many different influences with a cosmopolitan approach: for a jacket with origami-inspired draping or a scarf with thick Merino dreadlocks he used the wool from the Australian Merino sheeps.
International Coverage
The fall/winter 9/10 collection is bespoken by such wellknown magazines like Style.com or the Nylon Magazine:
Style.com editor Tim Blanks reports about the runway, backstage, and front-row where celebrities like actress Sarah Jessica Parker, singer Róisin Murphy, and the fashion professionals designer Diane von Furstenberg, Vogue editor Sally Singer are spending words about the designer's work. In the video Alexander Wang speaks about his design approach youtube.com/watch?v=Rnbl94v0wnI.
Faran Krentcil, digital director of Nylon Magazine, asks Alexander Wang about safer sex and the stylish look of condoms youtube.com/watch?v=i3YCEGnoPMg.
The New York Times published on occasion of his spring 2009 collection at Barney's a conversation with Alexander Wang about how fashion is changing and the characteristics and challenges of the fashion business youtube.com/watch?v=IOYfZnf1r48.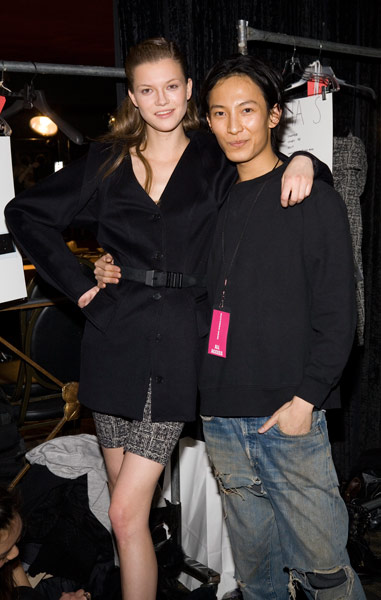 fig.: Alexander Wang before his fashion show with model Kasia on 14 February 2009 at the Roseland Ballroom, New York. She is wearing one of his signature designs featuring Australian Merino. Photo: © 2008 Stephanie Badini. All rights reserved.

About Alexander Wang
Alexander Wang is receiving since the beginning (2007) international coverage and awards such in 2008 the Vogue/CFDA Fund and in the same year the CFDA Swarovksi Women's Wear Designer of the Year.

Alexander Wang has studied at Parsons The New School for Design, New York. Today he is selling to over 150 boutiques and retail stores in the U.S., Japan, Hong Kong, London, France and Australia.

Check out Alexander Wang's website for his current and former collections, handbags, shoes, t-shirts... www.alexanderwang.com.


more design>>>