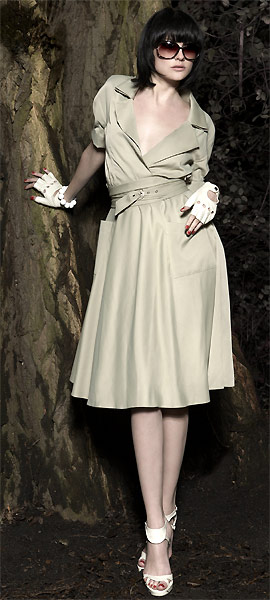 ANNA FUCHS
spring/summer 2009


Anna Fuchs about style and the summer trend 2009
In March 2009 Hamburg (Germany) born and living designer Anna Fuchs presented her spring/summer collection for urban divas on safari, beach ladies and cocktail queens with a practical lookbook: it can be used as a calendar through the year. The following interview about style and the summer trend 2009 was held in German; the original text is on this page in grey letters.
Question: Anna Fuchs, many of your pieces are made of floating fabrics. Would you say that this is the typical 'Anna Fuchs Style'?
Anna Fuchs, Ihre Kollektionen zeichnen sich durch fließende Stoffe aus. Würden Sie sagen, dass es sich dabei um den typischen Anna Fuchs Stil handelt?
Anna Fuchs: Definitely, this is my style. Floating fabrics enhance the form of the body; they don't cover it or de-form the body. That's the way it should be; that is Anna Fuchs. Heavy jerseys, crépe Georgettes and crépe de Chine which don't need lining are my preferred materials.
fig.: 'Safari gold'. The allround dress is from Anna Fuchs' spring/summer 2009 collection. Photo: Matthias Wolf / Personal Art Management.
Auf jeden Fall ist das mein Stil. Fließende Stoffe umschmeicheln den Körper und verhüllen oder formverfremden ihn nicht - so soll es sein - zumindest bei mir. Schwerfallende Jerseys, Crepe Georgettes und Crepe de Chines die man nicht füttern muß, sind meine bevorzugten Materialien.

Question: When have you developed your typical Anna Fuchs style?
Wann haben Sie den Anna Fuchs Stil entwickelt?
Anna Fuchs: I have found my style during many years of personal and professional development and by making experiments with myself: surprises are still possible:-). Strictly holding on one style is boring, isn't it?
But, since the label was founded in December 2000, I am designing with a strong focus on the female dress. 'The 24/h dress', 'The dress for all circumstances', The perfect uniform' have been and are still my Leitmotiv.

Meinen Stil habe ich über viele Jahre der persönlichen und fachlichen Entwicklung und des Experimentierens mit mir selbst gefunden: Überraschungen sind aber immer noch möglich:-). Strikt an einem Stil festzuhalten ist ja langweilig.
Jedoch, seit Labelgründung im Dezember 2000, habe ich den Fokus auf das Kleid gelegt. "Das 24/h Kleid", "Das Kleid für jeden Fall", "Die perfekte Uniform", waren und sind mein Leitmotiv.

Question: In summer 2009 it is trendy to wear voluminous silhouettes, especially skirts, such as you are presenting in your collection. Do you think that women become 'more female'?
Gerade in diesem Sommer sind Schnitte mit mehr Volumen im Rockteil, wie Sie auch in Ihrer Kollektion zu finden sind, sehr trendy. Denken Sie, wird die Frau wieder 'weiblicher'?
Anna Fuchs: 'Erotic is the secret and nothing is more boring than nakedness' once my idol Yves Saint Laurent said and he is absolutely right. This principle in combination with floating, exclusive fabrics, high quality manufacturing and tailoring are supporting women and their self-confidence to perform elegant and sovereign with a touch (fashion has to make fun!) 'sophistication'.
'Erotik ist das Geheimnis und nichts ist langweiliger als Nacktheit', hat mein Idol YSL mal gesagt und ich gebe ihm vollkommen recht. Diesen Leitsatz gepaart mit fließenden, hochwertigen Stoffen, perfekter Verarbeitung und Schnittführung, geben einer Frau von ganz alleine die nötige Unterstützung und das Selbstbewußtsein, sich elegant, souverän und etwas sophisticated (Mode muß Spaß machen!) seinen Auftritt zu inszenieren.


more design>>>


About Anna Fuchs
Anna Fuchs has always been fascinated by the cool style of the 30's. Especially by the chic and seductive divas, as well as the flair of power, sex and danger of that time. No wonder that her fashion is strongly inspired by the Film Noir's timeless elegance, mystery, and melancholy. With great respect for exclusivity, excellent tailoring and only the best fabrics, Anna Fuchs realized the dream of her own high-end fashion label "Anna Fuchs Hamburg" in 2000. She opened her first designer store in Hamburg's emerging and artsy neighborhood "Karolinenviertel". Since then, Germany's scene has discovered her authentic and cutting-edge but timeless fashion for themselves. Her list of faithful clients include VIP's like songwriter Nena ("99 Red Balloons"), actress Alexandra Kamp, and Viva TV VJ's Heike Makatsch and Enie van de Meiklokjes. In 2003, Anna Fuchs was nominated for "Best New Designer" at the New Faces Awards held by Germany's leading people and entertainment magazine BUNTE fashionoffice.org/who/fuchs8-2004.htm.
On www.annafuchs.com you will find more about the designer, collection, store...