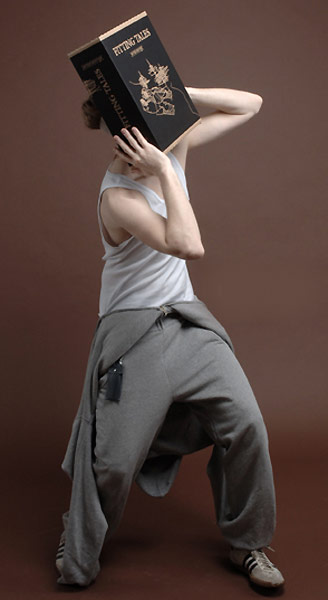 BITTEN STETTER
spring 2009


Collecting fashion in a chronological classification
German designer Bitten Stetter has presented her new concept of fashionable story telling in October 2008 in Vienna at Blickfang (fashionoffice.org/design/2008/blickfang9-2008.htm). In December 2008 she has opened her new store 'Fitting Forward' in Hamburg. Every two months she is presenting theme worlds. This concept of the store matches to the 'Fitting Tales', the textile publication of the German design label. Bitten Stetter has studied fashion design at the University of Applied Science Hamburg in 1999.
Question: When have you started to create textile stories?

Bitten Stetter: In October 2007 I started to create the textile stories.

Question: When have you opened your shop?

Bitten Stetter: We have opened the shop at the first of December 2008 with the theme 'TalenTier - the zoo of uniqueness'. Since this date we have a theme world opening every two month. At the first February 2009 we opened 'Urbansinn' and at the first of April we will open the theme world 'tingeltangel'.
Question: At this time you have three stories you are telling with your products; why have you numbered them with 001, 002, 003 and not with titles?

Bitten Stetter: Because the idea is that people collect the subscription like a book or a magazine. I want to create the need that people want to collect it in chronological classification.

Question: The 'Fitting tales' are transported in a box packed with a shirt, socks, jump suits… which play the leading roles in your work about abstract themes such as life in a mobile world, selflessness,... The boxes of each story are filled with fitting clothing?

Bitten Stetter: For example, Edition 001 of Fitting Tales is according to the theme of flexibility and motion. It deals with mental mobility, informational mobility, social mobility and e-mobility, thus facilitating movements of people in spatial and social spheres. The textile publication of Fitting Tales creates a basis, a survival kit, in collaboration with the Berlin based accessories brand Prodotyp.
fig.: Edition 001; Fitting Tale about mobility

This package contains a sweatshirt-jumpsuit, which can be a modern sleeping-, travelling- and resting bag or, in contrast to that, a homey sporting and gaming suit, but always a permanent fashionable travelling companion. It is a shell in which one can slip into to rest, take a break or sleep, but also to do some virtual trekking in; it encases its wearer completely and only leaves the head or face, hands and feet (depending on the model) free. This improvised resting place will be warming comfort and lifestyle product on one hand, and on the other hand it will also be protective action hero sports equipment.

Question: In the tale of your box 003 you are questioning self-love and selflessness by working about proverbs. Why do you think are the names of parts of our outfit such as collar, shirt, pocket, … so often used in German sayings when we are speaking about possession, risky situations, gambling…?

Bitten Stetter: Edition 003 is about the balancing act of self-love and selflessness with the help of proverbs. Every item is inspired by a proverb that is connected with collar pocket and chemise. It is funny, because the German proverbs describe situations, fears and worldly wisdoms with items of cloth or with clothes. I think the clothes are so near to the body that is a good sign to describe feelings. For example if you "give your last chemise" (also a German proverb) you are naked, that means you give everything for somebody who needs your help.

Check out more about Bitten Stetter www.bittenstetter.com.


more design>>>


fig.: Concept-store 'Fitting Forward'