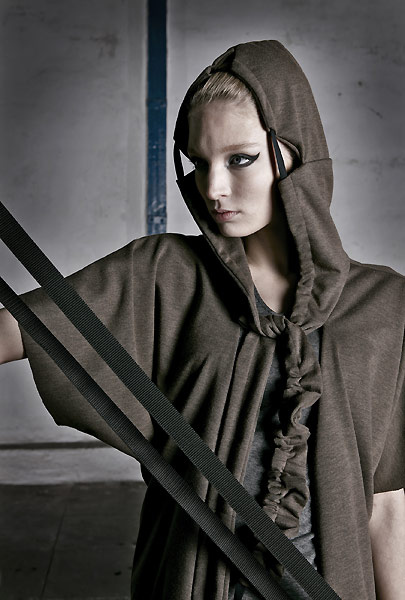 Eleonore de Ruuk
fall/winter 2009/10


Clothes made of wind and volcanic lava
Amsterdam based designer Eleonore de Ruuk was inspired for the fall/winter 2009/10 collection 'Lanzarique' by the geometrical abstract style of the Spanish artist César Manrique (video below) who became famous because of his landscape design and wind mobiles for the volcanic island Lanzarote in the mid 60s.
The designer describes the style of her creations as a mix of streetwear and highfashion. Hoods which are combined in original ways s well as hoods combined with a backpack, are the signature design of the label.
"The artist Manrique, whose work was the source of inspiration for this new winter collection, designed and realised a lot of wind mobiles on the island Lanzarote. The shapes of these constructions are translated into the print and shapes in the collection.

Black thread represents the black volcanic island Lanzarote. It is used in original ways in the women's collection, going through tunnels of divided parts of dresses and vests, pockets of skirts and dresses, pouches in sweaters, skirts and dresses but also through hoods."

fig.: Eleonore de Ruuk, fall/winter 2009/10. Photographer: www.marnixpostma.com; hair and makeup artist: Natalia Katereu.
For the prints, Eleonore de Ruuk was inspired by the camel, grasshopper and fish; animals characteristically for the island Lanzarote and often used by Manrique in his artworks. The women's and men's collections both have the same prints.

Video: Documentation with citations of César Manrique; by the Fundacion César Manrique http://www.cesarmanrique.com. The Spanish sculptor, painter, architect, landscaper, urbanist, and environmentalist César Manrique (1919 - 1992) is famous for the simplicity of his architecture, integrated in the natural landscape of Lanzarote.


About Eleonore de Ruuk
The Dutch label Eleonore de Ruuk was founded by Eleonore de Ruuk (born 1981) in 2006. After graduating at the Amsterdam Fashion Institute in 2004 and internships with fashion designers like Martine Sitbon in Paris and Sophia Kokosalaki in London she decides to begin her own label. The designer has won the 'Ispo Brandnew Style Award' in 2008.

Eleonore de Ruuk has shown her work during fairs like Bread & Butter in Barcelona, Modefabriek in Amsterdam and participated in fashionshows during Amsterdam International Fashionweek, in Wuhan/China with the Arnhem Fashion Factory ... and will participate at the Arnhem Mode Biennale in June 2009.

The label is available in Amsterdam at CODE (magazine) Gallery Store and Streetlab Supermarket, in Eindhoven at Strijp-x conceptstore, in Arnhem at Superduper, in Rotterdam at Fashion Fuse and on the Blend magazine webstore and the label's own webshop.

On her website you will find an announcement for a new videoclip "Rock da spot" by the former dutch idols finalist Dewi Pechler (funny website with flowers and Dewi welcomes you! www.dewimusic.com/) who is styled in a black top from the Eleonore de Ruuk SS 2009 collection. The videoclip will come out in spring 2009 www.eleonorederuuk.com.


more design>>>