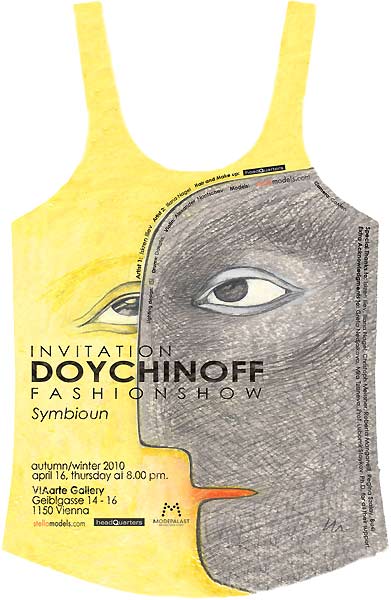 DOYCHINOFF
fall/winter 2009/10


The designer about mobility, recycling, over-seasonal fashion and the interaction of fashion & art
Vienna based label Doychinoff by Maria Doychinova invited by sending a t-shirt to the presentation of the new fall/winter 2009/10 collection on 16 April 2009 at the VIAarte gallery.
fig.: Invitation to the Doychinoff FW9/10 collection with a print by artist Iliana Nagel.

The invitation-shirt shows a print of a face in style of Cubism - if you interpret the print that the faces are changing their direction of looking or that the artist has changed the viewpoint to picture a person, dynamism drives both. The art movement of the early 20th century reflects dynamism and mobility of a new society, caused by new living conditions like airplanes, cars and emancipation in the 1910ies.
Maria Doychinova has studied fashion design at the University of Applied Arts Vienna and worked for Roland Mouret and Hussein Chalayan in London.
Visiting the website of the designer, you will find other hints for the designer's affinity to dynamism; such as the mobile glove for the Mobilcom Austria:
"The main idea is the combination between fashion and mobile communication. Today, the personal mobile telephone is very important – it is a part of our live – we need to be reached wherever we are, whatever we do. The mobile glove offers a very practical way to carry your phone with you, to hear it easily when it rings and to pick it up without complications. The glove has a modern sport – urban style character and it is recommended for motor, cycle racer, roller and everybody that need to stay tuned."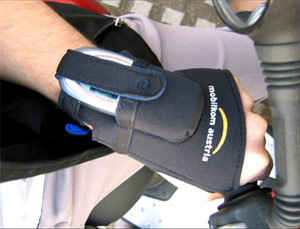 The product was produced by Mobilcom Austria and sold at Mobilcom shops.
fig.: Mobile Gloves - Mobilcom Austria Product Design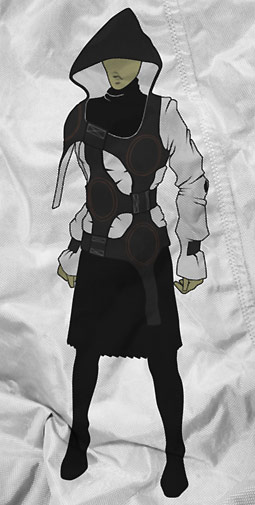 fig.: Airbag Project Nylon 6.6
Another project is entitled 'Airbag Project Nylon 6.6'. For this project the designer used automotive Airbags to create a new street wear fashion.
"On one hand, that is a recycling solution, because we use only airbags that have already performed their life-saving function. The airbag cushion comes into life, but it has a short existence - there isn't any reuse.
On the other hand, it is a new approach to fashion where we use the authentic form and texture of a normally hidden object, which look has not been originally designed with the purpose to be contemplated. We keep the form and all its characterises like stamps, seams, holes etc. as much as possible, being challenged to find the most different applications in clothing and designing a fascinating, new and wearable fashion."
Over-seasonal fashion
Question: Maria Doychinova, you are presenting collections entitled with 'Identity', 'Tripplet Zustand', or now the new FW9/10 collection 'Symbioun'. Is it right that your collections are not obligatory designed for one season – are they over-seasonal with stronger connexion to the theme?
Doychinoff designer Maria Doychinova: "I think titles like AW10, SS09 etc. means just a time period and don't say anything about your work. Garments are legitimate reflections of society's traumas and aspirations. I am using fashion principles to understand how identities can be created, combined or dissolved and formulated anew. You may say the title stands for the meaning.
I do not support the idea that the most garments become a thing of the past almost as soon as they are created. It happens, you buy something and it becomes your favourite piece of clothing – you would like to wear it as long as possible, you can identify yourself with it. In that order of thoughts I strive to create ideals of beauty and enduring design."
Question: Do you think that over-seasonal collections have a sustainable character? Is this your intention or why are you producing over-seasonal collections?
Doychinoff designer Maria Doychinova: "I see the collections as projects, not as a seasonal product. I like to think designer pieces are expressions of ideas and meanings with non-temporary character. AW10 points the moment when the collection will be available in the shops, some pieces now in the summer."
The titles and stories of the collections
Question: What are your collections about? What is 'Tripplet Zustand' and 'Identity' about?
Doychinoff designer Maria Doychinova: "'Tripplet Zustand' map's the visual and material transactions that create a sense of "place":
Movement in a structured room
Nearness and distance
Sense for room, the behaviour in rooms
Body and its appearance, nonverbal communication
'Identity' is the title of the collection 7/8. It is inspired by the book 'Identity' (1998) from the Czech writer Milan Kundera. He describes love and the inherent jealousy. Dreams are narrated and narrations are dreamt; misunderstandings evoke questions about true identity. The collection is a mean to find ones own identity in our contemporary society. In a logical consequence the show was held in the Gustav–Adolf church. The Viennese Evangelic church defines itself as 'A place where humans are encouraged to be themselves'."
Video: 'Identity' Doychinoff fashion show AW 2007/8 (Part 1) by youtube.com/user/fashiongallery21.
Question: 'Symbioun' will be presented on 16 April 2009 in Vienna at the VIAarte gallery. The invitation comes as a shirt with an artfully painted face in Cubism style. Does the shirt give an outlook to the new collection 'Symbioun'?
Doychinoff designer Maria Doychinova: "The collection "Symbioun" is the visual and spiritual connection between fashion design and Fine Art. In collaboration with the artists Iskren Iliev and Iliana Nagel, inspired by their abstract paint style, I am reaching new modern aesthetics. Using the co-evolution* principle and a kind of circle inspiration we create as end product a new art piece live in the show. Similar is the meaning of the invitation shirt. In fact you got a painting from the artist I. Nagel, transformed in real shirt. That symbiosis makes the invitation exclusive and limited."
*Co-evolution occurs when two or more species reciprocally influence each other's evolution.


Check out the website of Doychinoff where you will find more collections, projects... doychinoff.com.


more design>>>