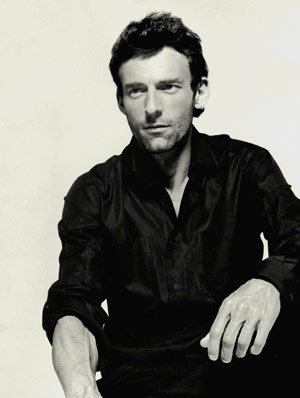 GOSSUIN
spring/summer 2009


Alain Gossuin about the 21st century man, Parisian style, and the male and female approach on fashion
The French men's wear label Gossuin presents for spring/summer 2009 a collection of functional shirts, trousers, jackets, bodywear in cooling and resistant linen and cotton in contemporary Parisian style.
fig.: Portrait Alain Gossuin. Photo by Laurent Humbert. Alain Gossuin is the designer of the label which was launched by him and his partner François-Régis Laporte in 2004.
Alain Gossuin's designs are inspired by his vision of men in the 21st century.
Question: Gossuin is made for the man of the 21st century. Which qualities has this man?
Alain Gossuin: This man of the 21st century is special because of his dynamic lifestyle: he travels, has an all time changing life, changing job, and he is a womanizer. He is very modern, not conservative. He loves the challenge of competition: in his personal as well as professional life. He cares about himself and his body by being active in sport.
Question: What is important for him?

Alain Gossuin: Gossuin is created for a man who respects the environment. This includes ecologic consciousness, sustainability, protection of cultural heritage, as well as health and the equity of humans.

Video: Gossuin S/S 2009
Model: Andy Gillet. By youtube.com/user/ModetopiaModel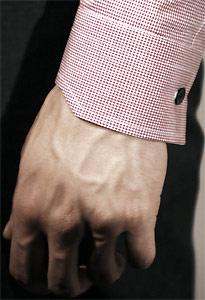 Question: On your website you are speaking about the differences between men's and women's wear.

Alain Gossuin: Imagine, there are 50% men and 50% women, but currently the approach to men's wear design is nearly 100% 'female'.
The 'female' approach is focusing on allure, first impact, color, form, and realizes special themes with almost theatrical costumes. Women are much more willing to suffer for fashion. But for a men's wear collection you can't work as for a women's wear collection.

Men need something different. They need designers who choose the 'male' approach by thinking more the function than how to impress the others. Details, the function of the cloth, the architecture, the comfort, the fabric's softness.... That's why in Gossuin there is nothing theatrical. Each piece, every detail has an esthetic as well as a functional reason.

fig.: For example the indented cuff is a detail of style but also very functional.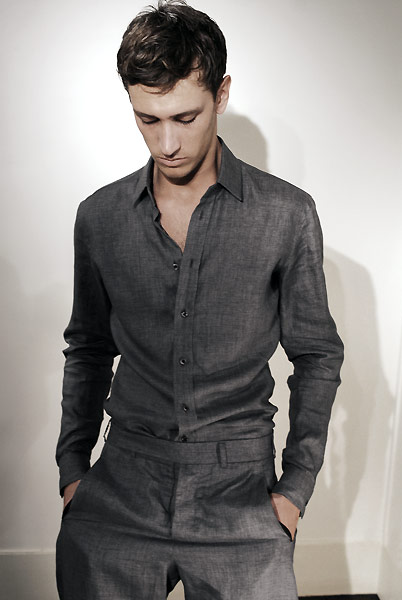 Question: Gossuin is re-creating a contemporary Parisian style. Please describe the contemporary Parisian style.

Alain Gossuin: From a technical point of view, you can divide between the fabric choice and the construction of the garment. The Parisian style is between the English (rough fabrics, classic tailoring) and the Italian style (very soft fabrics, more leisure and comfortable cut).

From an esthetic point of view, the Parisian style is simple, linéaire; it is not obvious colorful, not 'richy'; it has no English checks neither the Italian bling bling. The Parisian style has a soft architecture made of resistant materials.

The design – in material and form - has the timeless appeal, made for a long term life with no age; originality is in the details. The Gossuin design is developed on the Colbert devise 'creativity, originality and quality'.
fig.: Gossuin spring/summer 2009. Shirt and trousers are made of 100% linen.

About Gossuin
Alain Gossuin has studied fashion design at the Institut Bissoffsheim in Brussels and at the Paris École de la Chambre Syndicale de la Couture.

Before he launched his own label in partnership with François-Régis Laporte in July 2004, he has worked as a model with international photographers such as Herb Ritts, Mondino, Peter Lindbergh, Ellen von Unwerth... and appeared in 50 advertising films.

Already in September 2004 Gossuin fashion was presented at Bergdorf Goodman in New York; in October 2004 the men's wear label was stocked by L'espace createurs at Galeries Lavayette.

Video: On the video about the Making Of the Campaign 2008 you can see the designer Alain Gossuin during the photo shooting.

Today, Gossuin is available in 17 countries. The list of stockists is published on www.gossuin.com.


more design>>>