IVANAhelsinki
fall/winter 2009/10


Fashion created around poetic stories
The Scandinavian fashion label IVANAhelsinki by designer Paola Ivana Suhonen presents the new fall/winter 2009/10 'STAR RAIN' collection on 5 March 2009 (until 8 March) at Workshop in Paris. On the same day, IVANAhelsinki's art presentation happens at the Galerie Celal in Paris.
IVANAhelsinki creates collections around poetic themes such as the spring/summer 2009 "Hello Tiger" inspired by an old Russian children's story fashionoffice.org/design/2008/ivanahelsinki8-2008.htm.
The 2007, the collection 'Fasan' dives into the mystic waters of killed birds, knives, tragedies fashionoffice.org/design/2007/ivanahelsinki6-2007.htm. On occasion of the premiere of 'Fasan', Paola Ivana Suhonen stated: "IVANAhelsinki started as my personal art-project, now it's a way of living for us. Hell yeah it's a clishee, but that's how it is. I'd rather just travel around and go to my road trips, but it's pretty much ok to do cute, straight cotton and woollen dresses for summer girls and girl women...."
IVANAhelsinki spring/summer 2008 reflected on a romantic northern lovestory, inspired by a Slavic legend: "He was called Jack Diamond and he looked like Jack White, from White Stripes. ...". Award winning Finnish photographer Elina Brotherus and Paola Suhonen have worked together on the visualisation of this story fashionoffice.org/design/2007/ivanahelsinki8-2007.htm.
At Galerie Celal galeriecelal.com, a meeting point for contemporary art reflecting real life (from 6 Feb until 3 March 2009 artist and rapper Janine Gordon was in exhibition fashion.at/foto/2009/janinegordon3-2009.htm), IVANAhelsinki shows the accompanying art work to her collection.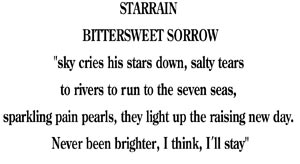 The label invites with following words:
fig.: "STARRAIN
BITTERSWEET SORROW
sky cries his stars down, salty tears
to rivers to run to the seven seas,
sparkling pain pearls, they light
up the raising new day.
Never been brighter, I think, I´ll stay"
Step into the mystic world of IVANAhelsinki through her website and read the whole story of 'Diamond, Stripes & Revolver' which begins with the words "He drowned me into the flood of love. He said I looked..." ivanahelsinki.com.