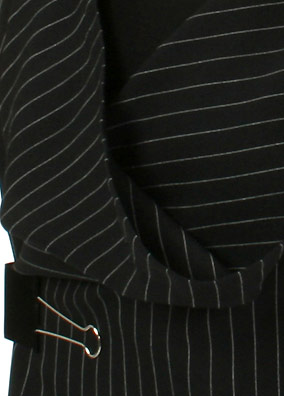 LINIERT
summer 2009


What are 'pinstriped suits'?

In March the Viennese label for design, fashion, architecture 'Liniert' by the Barcelona born fashion designer Ivon Gasque and the Viennese architect Christian Kollarovits presented on occasion of the international increasing awareness for the causes of the worldwide crisis a 'pinstriped collection'. In German language 'pinstriped suit' has two meanings: it means the 'banker suit" or 'jail house suit'.
"Our new summer collection not only arrives as late as the summer, but also treats a hot subject - the financial crash and its pinstriped causes... The naive fact that turns against ourselves is that we rather trust the usual, the conventional, than the non-conformist and strange. Just then, when certain pinstriped (ladies and) gentlemen wreck half of our national economies in a devious manner, while speechless spectators are still clinging to the textile insignia of competence.

Pinstripes and a well tended haircut - the emblems of seriousness and responsibility, the indispensable consolations for each small investor! The gestures also pursue ambivalent goals, they don't serve exclusively as signs for adventurous stock market transactions, but also as pleads of innocence, if exactly these transactions lack the promised success. An exercise for everyday metro-life: if infants, who have been entrusted to you show interest in the tattooed men sitting next to you, don't try to get them out of supposed harm's way!" states Liniert. Check out the collection on www.liniert.info.
Liniert are realizing their ideas of art: fashion that is not created for special settings or seasonal trends; architecture and interior design which are developed from looking at the strange things, the irregularities in life to find the truth.
Read the interview about seasonal trends and the influence of architecture on fashion on fashionoffice.org/interior/2009/liniert2-2009.htm.


fig.: Liniert summer 2009. He wears pinstriped trousers, she a pinstriped dress with draped collar and paper clip.


more design>>>