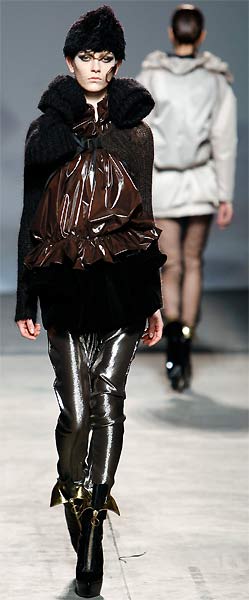 SEÏKO TAKI
fall/winter 2009/10


The accentuation of the body in a sexy way
In March 2009, the Japanese born (1966) in Paris based designer Seiko Taki presented her fall/winter 2009/10 collection entitled 'Chic Dry Woman' at 080 Barcelona Fashion. The designer drives her inspiration mainly from music.
On the website 080barcelonafashion.com Seiko Taki's woman in the baroque, dark night style is described as "a woman standing in a large saucer with her back facing the audience".
fig.: Seiko Taki fall/winter 2009/10 on 16 March 2009 at the 080 Barcelona Fashion. The bolero, made of hand-knitted mohair wool is worn over a voluminous top made of polyester. The skirt is made of cotton velvet, the leggings of silk lamé.

The fashion Although Seiko Taki's outfits are mostly layered, she accentuates the body in a sexy way such as with the bolero's closing on the image of this page (detail below). Or she evokes the impression of nudeness by laying transparent materials above wool and velvet. On some of the pieces ruffles are sparkling asymmetrical-unpredictably that we have unavoidable think of the baroque value of freedom. Or she throws water drapes into a satin floating skirt to make it squirrel out of a water-repellent-looking lacquer jacket. And not to forget the sculptures such as on the outfit on this page which comes with a neck-tunnel-collar. The collection's colors seem to be painted by an adventurous dark night: black, innocent white, asphalt-grey, nude, lipcolor-red, dark red-brown.
The music by Edith Progue This year, the designer has been inspired by the meditative digital compositions 'Deepgreen', 'Deepend', 'Andy's Right (w/fried eggs), and 'Deepblue' from the album 'Offline' by Edith Progue, founded by Paris based Bernie Swell (aka b.w-s). Edith Progue is the project title of music and visual art. The tracks from the album 'Offline' are accidental remixes made on the computer. On the website you can listen the albums, read press reviews, an interview with some statements by the musician such as his answer to the question about the most unusual comment: "Edith Progue's music has destroyed my speakers, my marriage, my social life... and set me free; thank you!" edithprogue.com.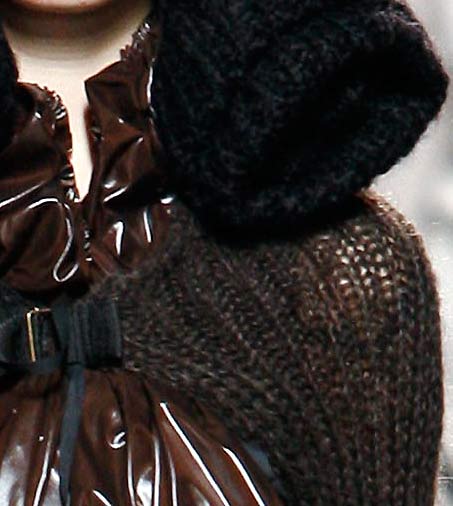 The designer Seiko Taki
Seiko Taki, graduate of ESMOD Japan (Tokyo), has continued her fashion design studies in 2001 at the Ecole Supérieure des Modélistes du Vêtement and at the Académie Internationale de Coupe in Paris (diploma in cutting). She was artistic director of the Tokyo Fashion Week, has worked as dress-designer for Benoît Missolin (2003) and head-designer for Anne Valérie Hash (2003-2006). Since 2007 she presents her own label at edgy new fairs such as Le Showroom in Paris, Bread & Butter in Barcelona, Atmosphères (Paris) or 080 Barcelona Fashion. In 2008, one of her creations has been photographed by Patrick Demarchelier for his exhibition 'Images et Mode au Petit Palais' in Paris. In the same year the designer has been featured in the book '100 New Designers' by Hywel Davies seiko-taki-paris.com.


more design>>>