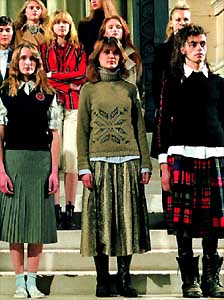 Jurgi Persoons
fall/winter2002/3
we all live in one world - sometimes in one classroom - and all the styles are different - what luck!
Jurgi Persoons
Graduated in 1992 at the Royal Academy of Fine Arts in Antwerp.
Worked as an assistant for Walter Van Beirendonck on the W&LT Collection.
Winter 1996-1997
Re-interpretation of english classic man clothes by a lazy rich girl
(easiest and more commercial collection)
Summer 1997
Anorectic young girl alone in her grandmother's benidorm residence
Winter 1997-1998
Resurrection of eighties Ungaro tramps out of their graves
(Living Dead, Thriller, Michael Jackson)
Summer 1998
Working girl's nightmare part one
Winter 1998-1999
"Escada Trauma" the nightmare of every perfectionist working girl part two
Summer 1999
"I know what you'll wear next summer" - the movie, au Trianon Paris
Winter 1999-2000
Glass Cages Girls by the River - Quai de Seine
Summer 2000
Girls on Columns - Musee Art Moderne
Winter 2000-2001
Centre Pompidou - Coursive 6th Floor
Summer 2001
Girls in the Egg - Jardin des Tuileries
Winter 2001-2002
Centre Pompidou - Underground Parking
Summer 2002 - Masks collection shown in Show-Room
Winter 2002-2003
Class Photography Presentation - Palais Galliera
foto: www.bless-service.de