MAX PAYNE 2008

Director: John Moore ("The Omen" 2006, "Flight of the Phoenix" 2004)
Cast: Mark Wahlberg, Chris O'Donnell, Beau Bridges, Ludacris, Mila Kunis, Donal Logue, Amaury Nolasco
Video: Official trailer "Max Payne". The movie is written after the PC-game with the same title. The music theme is from Marilyn Manson's album "Eat me, Drink me", song title "If I was your Vampire".


Rock-Gothic, Vampire aesthetic
This fall the rock-gothic, Vampire aesthetic is back in cinema, music video, fashion. The stories are inspired or directly taken from computer-games ("Max Payne"), comic-books (movie "The Spirit"), great literature or retold authentic history (Rihanna's new music clip, Yohji Yamamoto Homme).
The "Max Payne" Story: Drug cop Max Payne (Mark Wahlberg) is searching after the murders of his family in the dark streets of New York and fights against humans and powerful unearthly beings. The rocking cool aesthetic of the movie is revealed by the brand new special effects for slowing the motion of action scenes. Director Moore has realised some new ideas for the so called "bullet-time" you shouldn't miss ....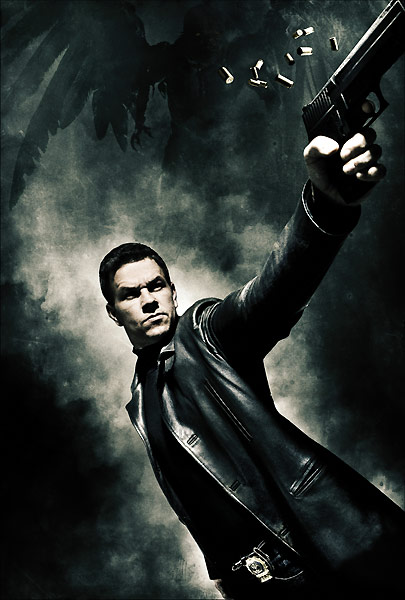 Costume designer is George L. Little. His filmography on imdb.com/name/nm0514565/ starts as costumer for "Apocalypse Now" (1979).

Rubberized Material

On the preview material you can see that in the action scenes mostly black raw materials are used. Their rubberized surface reflects the wet, foggy streets ...
The movie will come to theatres in most countries of US and Europe in October 2008.
fig.: Max Payne (Mark Wahlberg) © 2008 Twentieth Century Fox


The Rock-Gothic Look in Music, Fashion, Film
Rihanna's new released music clip "Disturbia" (July 2008) shows the singer as a Vampirella in tartan with fishnet stockings and sinful red pumps; directed by LA based Anthony Mandler who has written and directed videos such as Nelly Furtado's "Man-eater", ... youtube.com/watch?v=m3znib5qZ2o.

Tartan and woollen, raw fabrics with citations of former times can be monitored in fashion collections such as Yohji Yamamoto's Homme fall/winter 2008/9 fashionoffice.org/collections/2008/adidas1-2008.htm.
"The Spirit" is another example for the trendy rock-gothic style taken from one media - comic - transferred to another. Will Eisner's (American comic writer; 1917-2005) in the 40s written comic story of a cop who revives from the dead will come to cinema in US and Europe in December/January 2008/9. Eva Mendes, Scarlett Johansson, ... are the exotic beauties who are after the "Spirit". More about the movie, trailer www.fashion.at/film/2008/thespirit8-2008.htm.