Deanna Templeton
Scratch My Name on Your Arm

4 April - 10 May 2009
NRW-Forum Kultur und Wirtschaft, Düsseldorf www.nrw-forum.de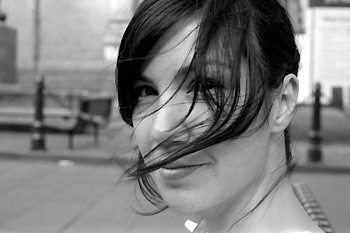 A female view on the skater culture
Californian photographer and documentarist Deanna Templeton (born 1969) exhibits her series about the ritual of tattooing and body/cloth signing in the scene of young skate groupies in US under the title 'Scratch My Name on Your Arm'. Deanna has chosen the title from the song 'Rusholm Ruffians' (from the album 'Meat is Murder' 1990) by the English band The Smiths with the lyrics "Scratch my name on your arm with a fountain pen / This means you really love me". Her series are questioning the representation of women in media. If you look twice, you will find out that they are stories about love too.
fig.: Deanna Templeton Portrait 2. (c) Ed Templeton (Ed is the husband of Deanna Templeton and a skateboard hero). The image is part of a collection from the years 2004-2006.
Deanna Templeton captures young women proudly displaying the autographs by their skate idols they've collected at these events. The skaters scrawl their names across their bodies, often on their bras or breasts and, in turn, the young women beam with pride at the camera.
With her work, the documentarist questions how women and their bodies are portrayed in the media and how women freely participate in their own objectification at times. The skateboarders have left their mark, almost as a mark of ownership, a kind of branding, on the bodies of the young women - on the images it looks as if the girls are delighted.

About Deanna Templeton
Deanna Templeton grew up in Orange County. In the 80s she was involved in LA's punk rock scene. In 1985, after returning home from a one-night runaway her Mother bought her a camera as a coming home present. This was the start of her photographic career. In the early 90s she became part of the skate scene. Her skater series have been published in the book 'Your Logo Here'.
fig.: Jacob owns this (c) Deanna Templeton. The image is part of a collection from the years 2004-2006.

"... And last but not least the "jacob owns this". This one made me look at myself. The thought of someone owning me. It's hard for me to let this go, I know it's definitely been scrubbed off by now, and maybe she doesn't even remember it, no big woop, but those words. These words don't hurt me but they definitely got me thinking." http://rvcadeanna.blogspot.com/ 30 May 2007.


more foto>>>