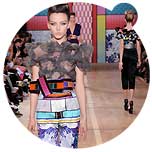 Basso & Brooke
spring/summer 2009


The Mathematical Logic of Technology and the Asymmetrical Essence of Natural Elements
London based designer duo Basso & Brooke presented the new Spring/Summer 09 collection inspired by the idea of a "High-Tech Romance" and the Far East in September 2008 during the London Fashion Week.
Japan and the well organized, urban chaos is the inspirational stimulus for the collection which expresses positive and optimistic lifestyle through colour and nature-prints.

Heian period in Japan (794–1185)
Basso & Brooke's fashionable story offers a glimpse into the spirit of the Heian period in Japan (794–1185) when the ruling classes defined themselves over the social attributes art, literature, especially poetry, and music.
"We were inspired by the Japanese notion of flow, laws and metrics of their aesthetic," say the designers who combine both the beauty of nature and also the magnitude of technology.
The basic construction is mathematical and logical - reduced such as the traditional Japanese costume "Kimono".
The pioneers of digital print in fashion, the team still push textile technology further by laser cutting and bonding seamlessly new fabric combinations.
The asymmetrical essence of natural elements is an important influence such as on the pant suit on this site (fig. left and right below).
You can find here traditional Japanese motifs including rabbits, birds, flowers, waves, sumi-e strokes, calligraphy ... in contrast to simple and technologic graphic patterns.
The color inspirations are taken from driving through Tokyo at night: Coral Red, Iris blue, Intense Black; and from sunny early mornings the designers witnessed in the gardens of Kyoto: Celestial Blue, Pale Roses, Salmons and hyperreal pastels.


Partners of the collection
Head accessoriess come from master milliner Stephen Jones who has created oversized kirby grips and hair pins. For the sparkling on georgette dresses Swarovski crystals have been used and Raouda Assaf has collaborated with sculptural shoes looking similar to the traditional Japanese shoes "Okobo" worn by a geisha.

Basso & Brooke, who come from very different cultures, started to work together in 2003. They are the winners of the prestigious London's Fashion Fringe 2004 Award. In 2005 they presented their first on-schedule show at London Fashion Week with the title The Succubus and Other Tales, a collection which used mediaeval elements, soft drapery and streamlined tailoring to express repressed eroticism. The collection also marked Basso & Brooke's debut collaboration with Swarovski.
For example the SS07 collection was an invitation to travel through the Exotique world with images of endangered species, luxury graphic fur and skins on fabrics. Therefore Basso & Brooke have been inspired by different times and places: the girl who dances Charleston in the 20ies, the Masai witchdoctor in a west-european dress - prepared for the Empire Ballroom in colonial times confashion.com/ss2007/bassobrooke10-2006.htm.
Christopher Brooke, born in Newark, Nottinghamshire UK in 1974, studied fashion at the Kingston University from 1992 to 1995, graduated with 1st class Honours before completing an MA in womenswear at Central Saint Martins between 1995 and 1997. The year after, he went on to assist Joe Casely-Hayford before meeting Bruno Basso in 2002 and setting up the label.
Bruno Basso, born in 1978 in Santos, SP, BRAZIL, has been working since 1998 as graphic designer, art director, curator, producer. He studied Journalism at the Catholic University of Santos between 1996-1999 and then Advertising in the University of St. Cecilia, Santos 2000-2001.
In November 2004 they signed the contract with luxury goods manufacturer Aeffe, initially for two seasons to manufacture and distribute the womenswear collection. Aeffe produce collections for Alberta Ferretti, Moschino, Jean Paul Gaultier, Narciso Rodriquez & Pollini.
Basso & Brooke sell in stores worldwide www.bassoandbrooke.com.
Video: Basso & Brooke Spring/Summer 09 - London Fashion Week, 17th September 2008 from Esquire on Vimeo. The graphic make-up and intricately folded hair is created by L'Oreal Paris.