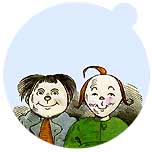 MAXXMO's Music Tip
The Black Keys are singer/guitarist Dan Auerbach and drummer Patrick Carney. One of their trademarks is that they refuse to use big-name studios, and do most recording, producing, and mixing themselves.
You can hear their music such as 'Set You Free' on the soundtrack of the movie "School of Rock" (2003), 'Girl is on My Mind' in a Sony Ericsson advertising (2006), 'The Desperate Man' in a Victoria's Secret commercial (2006) featuring Heidi Klum, their song "Your Touch" was used in a Lee jeans commercial (2007) ...
On 1st April 2008 the two musicians released their new album "Attack & Release".
In December and January (29 Dec Fremantie, 30 Dec Melbourne, 5 Jan Brisbane, ...) you can visit their concerts in Australia. On 29 Jan The Black Keys begin their US tour in Detroit, followed by Philadelphia, New York, ... Check out tracks, more videos, tour dates last.fm/music/The+Black+Keys


Video: "Just Got To Be" from the album "Magic Potion" (2006) by The Black Keys, directed by Peter Zavadil / Taillight TV.