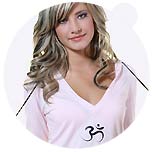 CHOPPER COUTURE
spring/summer 2009

Hindu Symbol "Aum" on Rocking Organic Fashion
In November 2008 the Toronto (Canada) based label Chopper Couture presented the new spring/summer 2009 collection dedicated to ethical fashion named "Rock n'Soul!".
"Pairing the word "fashion" with the word "ethical" or worse, "organic" has perpetually conjured images of shapeless potato sacks or itchy, poorly woven fabrics. But more designers are splashing out with edgy, sophisticated takes on eco designs," Arlene B. Queen, Chopper Couture.

fig.: "Emma" hoodie by Chopper Couture spring/summer 2009; on the front you can see the sanskrit symbol for Om or Aum - you know it from yoga "Ohmmm". The sign "Aum" is the most important Hindu symbol as it stands as a universal sign (includes day, night, dreaming, ...) for God and is used in praying for transcending.

"God's voice is Aum."
Yoga Sutras of Patanjali, verse (1:27)
Source: en.wikipedia.org/wiki/Aum
Chopper Couture uses eco-friendly fabrics, sustainable printing processes, and pays workers fairly "is no longer unfashionable," says Irene Zingenberg, designer of Chopper Couture. "We're still struggling with the belief that ethical clothing won't be up to scratch - that you can't dress somebody for the Oscars in an ethical dress."
Zingenberg uses bamboo, organic cotton and high-tech threads such as Tencel, an Austrian produced lyocell made in a no-waste process using sustainable farmed beech.
"I find smart manufacture the most challenging and creative of the ethical fashion principles," says Zingenberg. She has total quality control: from the cutting room table throughout the entire manufacturing process.
Zingenberg enriches the ethically made clothings with creations which express the individuality of the wearer.
Check out fashion by www.choppercouture.com.


more fashion.at/mobile>>>