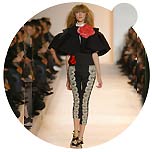 CHRISTIAN LACROIX
spring/summer 2009


Mix and Match of Yesterday and Today
On 1st October 2008 Christian Lacroix presented his spring/summer 2009 ready-to-wear collection made of signature Lacroix styles of the last 20 years in a mix and match of yesterday and today during the Paris Fashion Week in the Jardin des Tuileries, Paris.
Christian Lacroix is influenced by his childhood, homeland and gypsies
Christian Lacroix (born 1951 in Arles, France) is strongly influenced by his homeland and his experiences in childhood, such as the bullfights he attended. You will find even strong Gypsy and Provencal traditions in his work.
The studied art-historian Lacroix has started his fashion career at the fashion house of Jean Patou (1981-1987). In his collections as well as fragrances - such as 'Tumulte' (2005) - Lacroix combines the idea of history and evolution, yesterday and today, the past and the future as an impression of infinity.
One of his signature designs is the baroque 'ex-voto heart, home to the soul'. It illustrates artfully the world of Lacroix Couture. In 1987, Lacroix placed an ex-voto heart on the wedding dress of his first catwalk show - to make his dreams come true. A heart that he has continued to embrace every season, in a variety of forms. "…A heart representing love… Ever since my first Couture collection, I have included hearts in my creations."
In baroque and multi-cultural fashion Lacroix tells a story about movement, renewal, unexpected events and unimagined possibilities!
What has inspired you for the spring/summer 2009 collection?
"For next summer, the point is to react positively to the surrounding crisis by sending out a collection that is «very Lacroix » and asserts its difference, its « DNA » as we say today. For I think that 'hyper-luxe' will endure and that 'chameleon' fashion will not resolve the situation.

The collection is very 'Southern', very 'Couture, epitomizing the quintessence of the style that has been elaborated for the past 20 years and which has never been so `'of-the-moment'. There is of course some black, but always combined with ecru or metallic embroideries. The colours range from 'flesh' tones to bright colours, like those from stained glass windows.


There are lots of polka dots and flowers as well as giant 'bandana' prints and hand-painted silks mixed with lamé, almost flashy pieces. There are nods to bullfighters' costumes, antique details combined with modern shapes and textures. Men's jackets and very large and slouchy men's pants combined with corsets, navy blue and white mixed with giant 'bandana' motifs.

No long gowns, but very short dresses with diaphanous draping effects and also some structured overstitched "crest"-ruffles. And carnations from beginning to end, off all shapes, like a lucky charm to ward off bad luck," Christian Lacroix


Video: Interviews with the couturier, hair stylist, make up artist, Vogue-editor ... by style.com.

Odile Gilbert styled the hairs in the signature Sonia Rykiel look; the voluminous hairs are a homage by Christian Lacroix to his French colleague Rykiel. The "Queen of Knits" brought the sweater into Couture. Cult designer Sonia Rykiel has impressed artists such as Malcolm McLaren for the song "Who the Hell is Sonia Rykiel?" on McLaren's album Paris (1995, last.fm/music/Malcolm+McLaren/Paris).
Stéphane Marais (make up artist) about his expression of the typical French girl.
Tim Blanks (style.com) with a collage of the Christian Lacroix SS09 collection which is a mix of the different typical Lacroix styles.
Christian Lacroix explains his inspiration for the collection which spans from his debut collection over the re-mixing of the styles from former years until today. Lacroix started to develop the collection from skin color and enriched the pieces with bright colors and flowers.
Followed by statements of Hamish Bowles (Vogue) and Nell Campbell about high fashion in times of financial crisis! Check it out!





Video : Catwalk TV from http://extrafashion.blogspot.com/ about the Christian Lacroix Spring/Summer 2009 collection.



fig.: The 'torera' wears trousers with artful satin trompe-l'œil effect. Her waist is corseted under the cape with small black organza sleeves. Photo: Guy Marineau