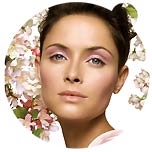 CLINIQUE
First Blush
Spring Trend 2009


The motto is 'Think Pink!'
For the new spring trend colors 2009 Clinique was inspired by the celebration of the awakening of nature: delicate, fresh blossoms enlightend by the first warm rays of the sun. The expression of the make up gives you the touch of 'just fallen in love' with the typical soft blushing. The motto of this collection is 'Think Pink!'.
For the monochromatic look color the cheeks, eyes and lips in pink. Color your face soft for the elegant city-chic. For the club-style in the evening hours use the color palette more extensively.

more fashion.at/mobile>>>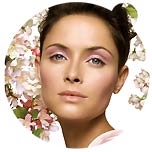 fig.: The model on this image wears the First Blush Trend Spring 2009 make up. The Fresh Bloom Eye Shadow gives the shimmering impression of morning dew on her eyes; the High Impact Mascara brings volume to her lashes for flirting with spring or ... who knows. Preventive she wears on her lips the Long Last Glosswear (SPF 15). The color 'First Blush' of her gloss comes out in a limited edition. The new trend products hit the stores in February 2009.