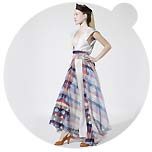 C.NEEON
spring/summer 2009
28 January - 7 February 2009 at Konk, Berlin Mitte


Imagine Sunday never ends!
Berlin based designers Clara Leskovar and Doreen Schulz presented their collection "Sunday Taste" with an extraordinary press release: the story begins with the departure on a train station and opens time and space in Samuel Beckett style.
".. We have time. Chirping crickets.
When was the last time you heard that?
I do not know.
And if the train does not come?
Then we shall get home, and tomorrow will be Sunday.
And if never again should a train come?
Then it would forever be Sunday.
And how would that be?
Just as today. ..."
The "Sunday Taste" collection is a waking dream of the taste of a strawberry cake visualized in feminine clothes. The designers are playing with contrasting materials, with inside/outside and blended/broken. You will find voluminous silhouettes with large printed, colorful butterflies on transparent chiffon.
The collection was at first presented at the Berlin Fashion Show on 18th July 2008 and travelled in the following months to press days in London (16 October), Copenhagen (5 November), New York (17 November) ...


c.neeon store at Konk

From 28 January through 7 February 2009 the Berlin Mitte boutique Konk will present a c.neeon retrospective with strong focus on the most recent "Sunday Taste" spring/summer 2009 collection.
The c.neeon store is a collaboration where the designers Clara Leskovar and Doreen Schulz get together with shop owner Ettina Berríos-Negrón, presenting their collection in an environment versed for both the fashionhungry clientele as well as the specialist audience of Berlin Fashion Week 2009 (28 Jan - 1 Feb 2009 mercedes-benzfashionweek.com).



more fashion.at/mobile>>>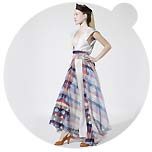 About Konk Ettina Berrios-Negrón opened the shop in 2003. Today, Konk collects especially works of Berlin-based designers. You will find a handpicked selection of women's clothes featuring exclusive work, ranging from c.neeon to other now-staple designers like Kaviar Gauche, Bo van Melskens, Frazius and Von Wedel & Tiedecken. konk-berlin.de


About c.neeon Since 2001 Clara Leskovar (former Clara Kraetsch) and Doreen Schulz are working together. In February 2004 Clara and Doreen launched the label "c.neeon". Both studied at the 'Kunsthochschule Berlin Weißensee(KHB)'; Clara Textile Design, Doreen Fashion Design. 2005 c.neeon won at the 20th 'Hyères Festival International de Mode & de Photographie' in France the 'Grand Prix' of the festival.
In July 2007 c.neeon participated in the Best Shop Berlin project "IDEAL Forum" and presented together with around 80 designers the SS08 collection. www.fashionoffice.org/design/2007/idealberlin7-2007.htm
In 2008 c.neeon was chosen by Nadine Barth for her book "Berlin Fashion" to be one of the representatives for contemporary German fashion design www.fashionoffice.org/design/2008/berlinfashion1-2008.htm.
c.neeon's collections are inspired by fantasy stories such as the 'vogelhochzeit" (free transl. 'birg wedding') is about the marriage of a magpie and a raven, by artists (Tamara Lempicka is the role model in 'sharing secrets'), or music: the title "Haschmichmädchen" (means 'Catch me Girl') for the fall/winter 2006/7 collection are the only words of a New Wave song which were left over by the censors in former East Germany in the 80ies because the lyrics have been too controversial confashion.com/fw2006/cneeon5-2006.htm.
c.neeon is available in Japan, Germany, UK, USA, Greece, Hong Kong, Spain, ... Check out former collections, details ... www.cneeon.de