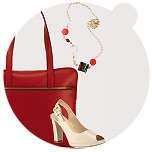 COCCINELLE
spring/summer 2009


The two sides of a woman
For spring/summer 2009 the Italian leather specialist Coccinelle presents bags, shoes, wallets, and accessories like belts, watches, jewellery, key-rings, ... under one central aspect: function.
As the collection is inspired by the two sides of a woman's personality, you will find in contrast romantic ruches and decorations: frivolous and light shapes are combined with boxy and clean designs. Even in coloring both female sides are expressed: bright colors citron, fuchsia, turquoise in contrast to neutrals in clay, white, pearl. Glossy meets matt; soft nappa leather vs. saffiano print calfskin.
"Weaving" is one of the techniques to make the bags, pochette, belts ... light and give them at the same an elaborated look. The durable Saffiano leather is used for the work line such as the computer bag on this site.
fig.: Pochette made of a woven techno silk fabric; Computer bag of the durable 'Saffiano' print leather; Necklace made with mother of pearl and stones on a metal chain; Patent leather peep-toe shoe.
Check out the site of Coccinelle where you can find information about the company, current collections, special projects such as the "Me and My Bags" photo competition with a nice gallery www.coccinelle.com.