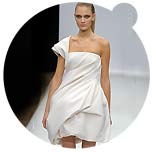 DICE KAYEK
spring/summer 2009


Whirlwind Dresses and Masculine Suits

'Tourbillon' (transl. 'whirlwind') is the name of Ece Ege's spring/summer 2009 collection. It is a delicious whirlwind of sculptured dresses with graphical, asymmetric folds. She plays with constructions like an architect to bring volume into the 'tourbillon'. The short dresses are made of mousseline lamée, satin, leather, matte latex, taffetas, silk organza.
You will find another strong expression in this collection: masculine inspired pant suits and dresses with coats in black with white collar are in contrast to the lightness of the 'whirlwind' dresses.
Ece Ege grew up on the side of her father, a jeweler, in the center of the old Osmane culture. Soon, she was fascinated by history and architecture. The couturier is born in Bursa, the former capital city of the Ottoman Empire which lasted from 1299–1923, until the Republic of Turkey was proclaimed. Bursa was lying on the famous Silk Road and was the source of most royal silk products.

Today, Ece combines in her work various techniques and materials to develop luxurious details or invents new silhouettes with collars and sleeves, unexpected folds ...
For her label 'Dice Kayek Pink Label' (since 2003, launched in 1994 under the title « Dice ») Ece Ege creates casual day wear for affordable prices.
Since summer 2005, she designs an additional collection of shoes and bags. In January 2006 she opened the first boutique in the heart of the 6 arrondissement, 10 rue du Cherche Midi www.dicekayek.com.


more fashion.at/mobile>>>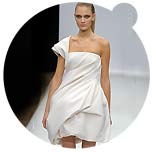 fig.: Dice Kayek Ready to Wear spring/summer 2009, Paris Fashion Week, September 2008.
Video: Dice Kayek spring/summer 2009 at Paris Fashion Week in September 2008; by Fashion Network.