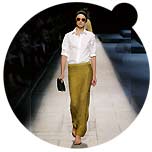 Dries van Noten
spring/summer 2009


In October 2008 Belgian designer Dries van Noten presented his new spring/summer 2009 collection during the Paris Fashion Week.
Opulent with Optic
Block-prints and the realisation of a prism - in the print as well as with the cut - is one of Dries van Noten's themes in this collection. This dress (fig.) is developed from a male-inspired shirt with the designer's signature drapery.

Vivid Colors

You will find three very strong themes: one is the prism development with black and white prints, the second are block-prints on vivid colors: one print of sequential squares has 50 graduated tones of blue, red or beige.
Dries van Noten presents in this collection jewellery in hand hammered sterling and gold plated silver spheres which become even parts of the clothes itself.

Gold Brocades
Along the graphic prints the third theme is gold brocades such as on the following image.

Gold brocades are used mainly for the evening wear. Some pieces are combined with the pure lines of menswear.
The gold brocade is especially created for this collection.

Dries van Noten is born into a family of tailors in 1958 in Antwerp. As a boy, he went with his father who had fashion boutiques where he sold collections by Ungaro, Ferragamo and Zegna, to see the shows and collections in Milan, Düsseldorf and Paris.

In 1976, at the age of 18, he entered the fashion design course of Antwerp's Royal Academy. While continuing his studies, Van Noten began to work as a freelance designer for commercial collections for a Belgian manufacturer.
In 1986 Dries Van Noten opened a tiny boutique in Antwerp's gallery arcade. Here he sold his men's and women's collections, which were initially made from the same fabrics.
Today, Dries Van Noten sells his Men's, Women's and Accessories collections all over the world. In addition to his boutiques in Antwerp, Paris, Singapore, Dubai and Hong Kong, Dries Van Noten works in partnership with some four hundred boutiques in cities such as New York, London, Milan, Berlin, Tokyo ...

Check out details www.driesvannoten.be

Video: Interview with Dries Van Noten, runway, ... SS09 by style.com