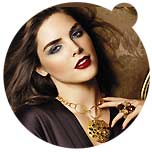 ESTÉE LAUDER
fall/winter 2008/9
From November 2008 on, Estée Lauder's holiday collection "Vintage Jewels" brings glamour to the face. The decadent shades are inspired by the opulent jewel tones of Ruby, Amethyst, Sapphire and Emerald.

The collection is created to complement the wardrobe for festive events. The smokey eyes, glowing cheeks and warm ruby lips are composed for luxurious fabrics of silk, satin and lace.
The elegant look in 4 steps:
1. warm glow for the face
Apply the silky, lightweight formula of the Shimmering Jewel Powder to your face, décolletage or anywhere you want to add a touch of holiday glow. It can be worn alone or over foundation.
2. smoked eyes
To get the look, pair the eyeshadow (comes in a duo-pack in the shades of Amethyst, Sapphire and Emerald) with the line-defining Smoked Eye Pencil in shades of Smoked Amethyst, Smoked Sapphire and Smoked Emerald. The Smoked Eye Pencil contains moisturizing oils such as jojoba, vitamin E and cottonseed.
Complete the eye look by using Mascara in Black.
3. ruby lips
Estee Lauder created especially two tones (limited edition) for this collection: Black Cherry and Ruby. The lipsticks are beautifully faceted, jewel-shaped bullet.
4. nail lacquer
Estée Lauder recommends to finish the Vintage Jewels look with perfectly polished nails by applying jewel-inspired shades of Ruby, new Blackberry and new, limited edition Red Tango.

more fashion.at/mobile>>>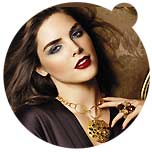 fig.: Vintage Jewels

Check out more application tips for the Sapphire, Amethyst, and Emerald look www.esteelauder.com.