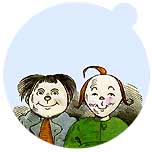 MAXXMO's Music Tip
Video: "The Royal Family" by Free Blood, directed by Elizabeth Seklir & Sonja Kroop (2008). The new album "The Singles" with 11 party/experimental soundtracks inclusive "Royal Family" was released on 11 Nov 2008.
Brooklyn/New York based Free Blood (formed 2003) consists of fashion designer Madeline Davy and John Pugh - both vocals - accompanied by minimal sound (mechanical drums, bass guitar, cello, saxophone).
Free Blood began with playing house parties around Brooklyn and Manhattan. In September 2008 Free Blood performed in front of designers, DJs and celebrities ... in the Tribeca Grand Hotel aka Batman's Jungle Palace on occasion of the Fashion Week New York.
"We hid out in the room, leisurely sipping our cocktails watching Project Runway (what? it was fashion week, people!) and Golden Girls (what? it's like Sex In The City:The Retirement Years). Our room was right above the lobby bar so an added bonus was hearing Eric Duncan play "Heaven's In The Backseat Of My Cadillac" through the floor. Finally, our presence was requested on stage. The basement was packed with folks shuffling around each other with drinks in the air, either dancing or trying to get to the side of the room Val Kilmer was hanging out on." Check out the whole story from 19th Sept (and the official Free Blood t-shirt) at freebloodmusic.com.
Free Blood will perform on 15 Dec 2008 in Manhattan, New York. Tracks, albums, full biography ... last.fm/music/Free+Blood