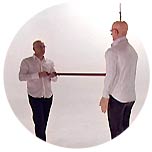 ZOЁ CHARLTON: Family
DAVID LEVINTHAL: War
GABRIEL DE LA MORA: 39-G.M.C.-23.sept.2007
14 November 2008 – 3 January 2009
Conner Contemporary Art


Family, War, Culture
From November 2008 through 3 January 2009 the Washingtoner gallery Conner Contemporary Art presents three artists about the themes family, war and culture:
Zoë Charlton's (lives and works in Baltimore) drawings of nude figures center about family, identity and personal choices to define the self. The diverse personalities within her Florida-based African American family are represented by portraits of the female cousins of the artist Zoë Charlton.
David Levinthal's photographies are about the war in Iraq (2008).
Gabriel de la Mora's performance about culture is presented by the two-channel video "39-G.M.C.-23.sept.2007" at Conner Contemporary Art. The artist destroys one cliché of popular Mexican culture to bring forth references to other cultural traditions, including surrealist art and relic devotion. Gabriel de la Mora batters a life-size self-portrait, formed as a Mexican piñata. Instead of candy, colored paper arteries, veins, internal organs and red confetti blood pour out of the artist's Doppelgänger as he strikes it with a stick.


more fashion.at/mobile>>>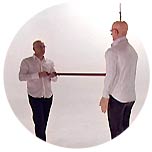 fig.: Gabriel de la Mora 39-G.M.C.-23.sept.07 2007, digital 2-channel video, 20 minutes;12 seconds, edition: 5. Check out the video on www.connercontemporary.com.
Gabriel de la Mora lives and works in Mexico City. He studied architecture with honors at the Universidad Anahuac del Norte, Ciudad de México. From 2001-2003 he studied photography, video, painting at the Pratt Institute, Brooklyn, New York. 2006 he attended L'école des Beaux-Arts de Saint Etienne, France. Since 1996 his work is exhibited in US and Europe.