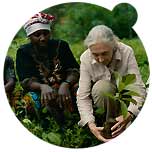 GANT
fall/winter 2008/9


Plant 25 trees with 1 bag!
Gant in collaboration with Jane Goodall
From October 2008 on, the US label Gant supports the Rebirth the Earth project in Tansania with the Jane Goodall campaign in over 70 countries. You can be part of the campaign by buying a Gant "hope" bag (limited edition of 10.000 pieces) made of organic cotton. Let around 25 trees grow in the forests of Gombe in Tanzania with one bag!

Jane Goodall is one of the most celebrated and fascinating women in the world. For her untiring struggle for the environment and those who inhabit it, she has been compared to Gandhi, Nelson Mandela and Mother Teresa.
Jane Goodall was born in Bournemouth in the southwest of England in 1934. Although it was unheard of for a woman to venture into the wilds of Africa back in the summer of 1960, Goodall settled down in Gombe in Tanzania to begin what would eventually become the longest uninterrupted field study of animals ever made.

Jane Goodall began her landmark study of chimpanzees in Tanzania in June 1960, under the mentorship of anthropologist and paleontologist Dr. Louis Leakey. Her work at Gombe Stream would become the foundation of future primatological research and redefine the relationship between humans and animals.
Among other things, she surprised the scientific research community with her revolutionary observations of chimpanzees using and making tools and behaving in ways once considered unique to humans.

more fashion.at/mobile>>>


Video: The History of the Jane Goodall Institute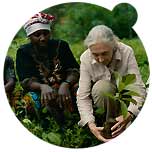 fig.: (C) Gant; check out where to buy the bag www.gant.com