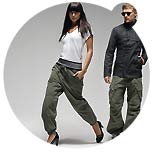 G-STAR
spring/summer 2009

Amsterdam based Denim specialist G-Star Raw, founded 1989, presented in August/September the new spring/summer 2009 collection for apparel and footwear.
fig.: The line "Army" with militarian inspired styles will bring back the beautiful color "sage". The loose and comfortable style is a contrast to the tomboy look of several seasons ago. This line will be in shops in January 2009.
Space Nomad
Some parts of the collection roll out in November 2008; such as the "Space Nomad" - a strongly visual led theme inspired by old astronauts suits. Imagine Russian astronauts leaving the earth with high end equipment forty years ago and now returning with their outdated, vintage outfits. The program introduces new silhouettes derived from functional outer space outfits yet now highly wearable as street style.

Authentic astronaut suits are required to be comfortable for long periods of time with special dimensions in crucial areas of their pants. The Cosmo Pants are selected as theme highlights with a low crotch and regular front rise, yet a back rise that is made 10 centimeters longer than an original pant fit. The resulting silhouette stands for a true combination between authenticity and high tech comfort ability. The legs are slim fitting which enhances and completes this unique design.
Footwear
For the spring/summer 2009 footwear, G-Star combines technical craftsmanship with an unconventional approach to design and materials to express raw luxury. A persistent eye for detail at every stage of the design process has led to a reinvention of traditional leather shoes for men, depicted by authentic materials and unorthodox finishes. The three lines for women and men are "Military", "Utility", and "Sport".
The "Sport" footwear for men is inspired by retro and gets the "Raw" style through material combination such as perforated leather with full grown leather and nubuck trim or G-Star nylon meshes and light weight suede's.
The "Utility" line for women offers high-heels with perforated leather treatments in three new styles: open-toed with a Mary-Jane strap, open-toed with a parallel strap and a high-strap sandal. Another shoe of the collection for example is inspired from the 60's Mary Quant court shoe with a low block heel.
fig.: "Addison" top with filmstrip print on creamy silk cotton jersey
Check out LA Raw Night curated by Dennis Hopper, Fashion Show during New York Fashion Week on 11th September 2008, "G-No's road to fame" movie about a rhino plushie in Hollywood ... www.g-star.com
Video: G-Star Raw fashion show and after party (interviews with U.N. Ambassadors Heather Graham and Alan Cumming ... ) on 11th September 2008 in New York. By NYLON TV www.nylonmag.com