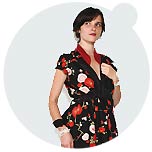 High Tea with Mrs Woo
spring/summer 2008/9
The Australian design-sisters Rowena, Juliana and Angela Foong present for spring/summer 2008/9 the first part of their 'Departure' collection under the title 'Arrival'.
"'Arrival' is the first half of the 'Departure' collection – a series of garments romanticized by sentimental landscape.

Inspired by recent travels, the sisters of High Tea with Mrs Woo describe a certain nostalgia in foreign comforts. They explore time, smell, sound and colour to invoke a sense of feeling 'at home' when one is away from it.

Featuring toggled jackets like parachutes and appliquéd skirts that are dappled like the surface of a pond, the exotic is also familiar in this collection of layered gauze dresses, back-to-front tops and oversized trousers. Satin-treated cottons and soft Merino wools in humid hues, warm spices and bold antiquated prints, brings us home however far away we may be."
About High Tea with Mrs Woo
Born Chinese-Malaysian, the three sisters migrated to Newcastle, Australia in 1988 where they are still based today. Studying at the University of Newcastle, Rowena and Juliana have completed degrees in Graphic Design and Visual Communication and Angela with a double degree in Economics and Commerce.
High Tea with Mrs Woo was launched in the summer of 2004. The sisters were winners of the 2005 NSW Mercedes Benz Start-Up Awards and have had their designs exhibited at such galleries as the Victoria & Albert Museum in London, Object Gallery in Sydney, The Powerhouse Museum, Mercedes Australian Fashion Week, Sydney Design Festival and Lake Macquarie City Art Gallery.
The title of the collection reflected in fabrics, cut
The three sisters create their collections under certain themes which are reflected in fabrics and cut: in spring/summer 2006/07 'On Seeing and Noticing' was a romantic image of a lone traveler who finds his pleasure in solitude, because after an old Chinese saying "It's not a secret if it's known by three people...". The lone traveler's diary book binding and photo corner elements have been featured in these designs to represent the traveler's noticing fashionoffice.org/design/2006/hightea7-2006.htm.
For spring/summer 2008 the collection "Hidden" was inspired for example by a delicate Ming-vase, revealing hidden intentions, concealing furor and fragility.
"Inspired by the shadowy darkness and seduction of film noir, HIDDEN is a study of aesthetics that obscures and uncovers secrets and fatalism. This collection plays on garments as a second skin for revealing and concealing the body and her erogenous zones. The mysterious character of the femme fatale is explored by the permutation of distinctly soft lines and hard edges...,." described the three sister design team - Rowena, Juliana and Angela Foong - the spring/summer 2008 collection of High Tea with Mrs. Woo fashionoffice.org/design/2007/hightea9-2007.htm.
fig.: High Tea with Mrs Woo, spring/summer 2008/9chain; Patent leather peep-toe shoe.
Find your store www.highteawithmrswoo.com.au.