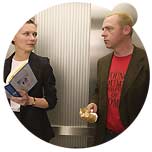 How to misbehave in the world of rich and beautiful

The Story
This movie bases on a real story by Toby Young who published his memoir "HOW TO LOSE FRIENDS & ALIENATE PEOPLE" first in 2001. He describes his move from London to New York to become a contributing editor at the highly prestigious Vanity Fair. Fired less than two years later, the memoir hilariously captures Young's failed attempt to take Manhattan by storm.
In the movie it is Sidney Young (starring Simon Pegg) who fails as a journalist in the world of the beauty and rich: he has bad manners and his vulgar pranks lead to monumental mishaps with consequences. But finally he wins the heart of his true love ...

The Author
Author Toby Young reminisces: "Things really didn't work out for me at Vanity Fair, and one of the reasons was that I was just completely naïve about what being a journalist in New York was like. I had seen films like, His Girl Friday and The Philadelphia Story, and I was expecting the corridors of Vanity Fair to be full of these debonair wits, trading wisecracks in-between sips from the hip flask.
It was actually this incredibly rule-bound society – much more rule-bound than the culture I'd come from. We have this idea that America's this great informal place, it's like one giant speakeasy where everyone is completely themselves. But London's quite like that; New York is nothing like that. New York's much more like London was a hundred years ago, and I felt almost like I was Austin Powers who'd come of age in this kind of permissive, swinging '60s era who'd been teleported back in time to the Victorian era."
You will find out, that he even has a bad taste in styling, such as wearing a funny t-shirt on the wrong place ...


more fashion.at/mobile>>>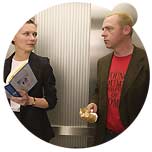 fig.: Alison Olsen (Kirsten Dunst), Sidney Young (Simon Pegg). © 2008 Concorde Filmverleih GmbH


HOW TO LOSE FRIENDS & ALIENATE PEOPLE (2008)
directed by Robert Weide
starring Simon Pegg, Kirsten Dunst, Jeff Bridges, ,Gillian Anderson, Megan Fox, ...
costume design by Annie Hardinge

Video: Trailer