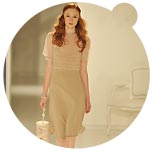 JASPER CONRAN
spring/summer 2009

The Erotic Story from a Missionary
On 15 September 2008 British designer Jasper Conran presented his new spring/summer 2009 women's wear collection at On|Off during the London Fashion Week.
This collection is inspired by a 1929 book, leaves from a missionary notebook. Even the press release, painted and hand written artfully, tells the story of a young woman who comes into a city to help her brother Felix in his missionary work. The erotic text becomes feverish after the spider's bite.

The running order of the catwalk show reflects the story of the missionary leaves: the show begins with "Duty" (griege linen boned and corseted jacket, griege linen gored panel skirt) and is followed by "Miss Hargreaves" wearing a bird cage bag. The rose silk tulle and crepe ruffle bibbed dress is angel like: on the sleeves you will find a golden detail which enhances the impression of nakedness which stands for the pureness of "Miss Hargreaves".
The following pieces "Missionary Maiden", "Sobriety", "Here in this wicked town", "The Thinnest Possible Lingerie", "A heady Scent of Flowers", "Shore Leave" signify the stations of this young woman in the new city.
With "Daughter of Jezebel", a cardinal red tulle and sequin bias slip dress and torn shirt, the collection enters the "erotic" part of the missionary's story, where "Sins abounds at every corner. Temptation is ever present. Burly sailors and dusky maidens lurk in shadows." One sleeve of the dress looks ripped; has she danced wild through the night?
Jezebel is used to name wicked women. In the New Testament Jezebel, a queen of the ancient Israel, was accused to induce "members of the church to commit acts of sexual immorality and to eat things sacrificed to idols". (Source: en.wikipedia.org/wiki/Jezabel - John McKenzie, "Dictionary of the Bible".)
This is the moment the pieces of the collection reflect with titles like "Sunday Best", "Good Intentions", "Guilty Pleasure", "Bella Donna" ... "The erotic scent of white waxy flowers pervades, birds chatter in the trees and waves gently caress the shore, whilst light comes from a honey coloured moon"
Evening gowns are presented in the third part, such as the one with jet sparkled net shoulder puff, black dahlia tulle and chiffon appliqué and, jet sparkle knickers. It is entitled with "After many Adventures".
"In bed at night - a spider's bite - delirium followed. She dreamt of hands and mouths and hands and mouths and mouths ... mouths ... hands ...."
fig.: "Miss Hargreaves" - rose silk tulle and crepe ruffle bibbed dress.
The designer
"Everything is in the cut," says Jasper Conran.
Since 20 years Jasper Conran (born 1959) is known as an authority on British style and tailoring. Educated at Bryanston and Parson School of Art & Design in New York, Jasper Conran's first collection was designed for Henri Bendel New York. In 1979, aged just 19, Jasper Conran designed his first collection under his own name.
Jasper Conran was awarded British Designer of the Year in 1986 and the Fashion Group of America award the following year. The Jasper Conran flagship store opened in February 2005 in a four-story Georgian home in London's Mayfair www.jasperconran.com.
Video: Part One of Jasper Conran SS09 runway show at On|Off. On|Off organizes information especially for international press and buyers. Established in 2003 On|Off takes place during London Fashion Week at the Royal Academy of Arts.