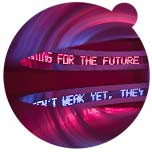 JENNY HOLZER: PROTECT PROTECT
25 October 2008 - 1 February 2009 Museum of Contemporary Art (MCA), Chicago
Curated by Elizabeth Smith, James W. Alsdorf Chief Curator and Deputy Director for Programs at the MCA

Jenny Holzer connects the public about issues of social and cultural importance
The traveling exhibition organized by the Museum of Contemporary Art (MCA), Chicago, in partnership with
the Fondation Beyeler in Basel, Switzerland, centers on Jenny Holzer's work since the 1990s.

These include major new works using LED technology, sculpture, light projection pieces, and groupings of new paintings of government documents made available through the Freedom of Information Act. Holzer chooses existing texts from sources ranging from these official documents to poetry and literature to her own earlier series. The works in the exhibition foreground the way in which Holzer continues to innovate artistically while elaborating on themes that have been the touchstones of her practice: pain, love, peace, and survival.

Check out for more information about redaction paintings, sculpture, ... by Jenny Holzer www.mcachicago.org.


more fashion.at/mobile>>>


Catalogue: illustrated, with essays by authors including Elizabeth Smith; Joan Simon, curator-at-large at the Whitney Museum of American Art; and an interview with Jenny Holzer conducted by Benjamin H.D. Buchloh. The catalogue is co-published with Fondation Beyeler and Hatje Cantz. www.mcachicago.org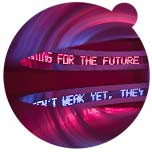 fig.: Jenny Holzer, MONUMENT, 2008. Diehl + Gallery One, Moscow, Russia. Text: Truisms, 1977-79 and Inflammatory Essays, 1979-82. © 2008 Jenny Holzer, member Artists Rights Society (ARS), NY. Photo: Vassilij Gureev.
The exhibition includes several other architecturally configured LED works in which bold color, sculptural form, and passages of text interplay. Each is programmed with a set series of texts: from declassified documents in Thorax (2007), Purple Corner (2008), and Red Yellow Looming (2004) to Holzer's writings in Monument (2008), Blue Cross (2008), and Green Purple Cross (2008). These works can offer an array of institutional statements as well as individual narratives, stimulating reflection on issues of violence, hope, and vulnerability. The works include Red Yellow Looming (2004), an assemblage of horizontal signs that pitch forward above the heads of viewers, and Monument (2008), a vertical sculpture of curving bands of moving text that is nearly 20 feet tall.


Video: Video: Jenny Holzer " Inflammatory Essays" during "Women in the City", a public art project on over 50 locations in Los Angeles, 9 Feb through March 2008. More information about "Women in the City" www.fashionoffice.org/culture/2008/women3-2008.htm

The Inflammatory Essays (1979-82) are appropriated texts by Jenny Holzer from major political figures such as Emma Goldman, Mao Tse-Tung , and Vladimir Lenin.