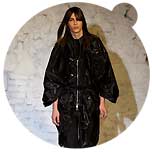 JEROEN VAN TUYL
spring/summer 2009


"As a person puts on new clothes and discards old and torn clothes, similarly an embodied soul enters new material bodies, leaving the old bodies." Bhagavad Gita
(The notion of reincarnation and karma is a strong premise in Hindu thought. Source: en.wikipedia.org/wiki/Hinduism)
Dutch designer Jeroen Van Tuyl presented his 16th collection, the spring/summer 2009 men's wear with the title "Tagore" on 28th June 2008 in Paris, where he shows since 2006 every season.
Jeroen Van Tuyl created pieces with soft lines in light pink, orange pink ... often shiny fabrics but even oiled black and dark greys on voluminous materials. Where does the inspiration come from?
"The softened lines are inspired by subtil Hinduist reminescences. The name of the summer 09 collection of Jeroen Van Tuyl is "Tagore". Tagore is a well known Indian poet."
If you are searching online, you will find out that the name Tagore is very common; even for poets. Perhaps it was Rabindranath Tagore, a supporter of the Indian Independence Movement, who has spent his name for the spring/summer 2009 collection. en.wikipedia.org/wiki/Rabindranath_Tagore
Why has the designer chosen a religion as inspiration?
"It is not about a religion; but a crossover inspiration between Hinduism attitude and a more modern city one; a cross of civilisation; as it is happening right now."
Which elements of the collection reference the Indian clothing tradition?
"You may find the soft reference in the smooth cut of the tee-shirts; some of the sari inspired pants or silk shirt draping."
The signature outfits of the new collection, such as sari inspired pants combined with urbans jackets, trench coats with softened lines, t-shirts with collars, shirts with new sleeves cut ... are entitled after Indian cities: Kannauj, Bhopal, Indore, ... combined with pieces named after Asian-European cities such as Ormuz.
fig.: Cape KANAUJ, hama black Short sleeve T-shirt ASMER, black cotton jersey Basic pants ORMUZ, dry wool check. Jeroen Van Tuyl spring/summer 2009. Photo © Peter Stigter http://www.fashiontalk.nl

About Jeroen Van Tuyl
Jeroen Van Tuyl graduated at the Arnhem Institute for the Arts in 1988; he worked for Dirk Bikkembergs, Joe Casely - Hayford and So by Alexander van Slobbe. In 2000 Jeroen Van Tuyl founded his label with an international strategy. The men's wear label is based in Rotterdam, the Netherlands.
The Reinvention of Man's Body
His signature design is developed from his continued search in modern men's wear and his architectural approach on the men's body through collections such as the S/S 2005 'Robiator' or the A/W 2005-2006 'Robotica'.
In January 2006 he presented 'Men Machine', in July 2006 the 'Transformer' spring/summer 2007 followed with a variation around the masculine wardrobe: Jeroen Van Tuyl softened the classic men's wear (vest, suit, rain coat, short pant) by a butterfly theme and colors such as light grey, baby blue, orange ...

International Press Coverage, Shops
Jeroen Van Tuyl is bespoken by the international press including FashionWindows.com, Fashion Daily News, Book Moda Uomo, Le Monde, The Independent, ... Jeroen van Tuyl is available in France, Netherlands, Russia, Canada, ... www.jeroenvantuyl.com.