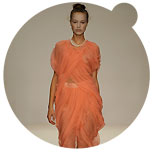 JOHN ROCHA
spring/summer 2009
Experimenting with Fabric and Technique
Hong Kong born and in Ireland based designer John Rocha explores in his new spring/summer 2009 collection a certain duality – beautiful disarray versus control, masculinity versus femininity - by using contrasting materials such as summer weight tweeds, lace inspired knits, touch dry crepes or viscose jersey and female drapery versus androgyny tailoring.
Layering
Some of the pieces are looking ethnic inspired; one dress is decorated with a silver-gold beaded shirt-like necklace. Below the drapery of the upper white-blue striped crepe a bright colored embroidered yellow skirt shines over nude colored volants.
Femininity - Androgyny
For black and white Rocha prefers structured silhouettes of lantern like shapes in coats, dresses and skirts and creates new proportions with voluminous, very female skirts and slim cut shoulders. Jackets, vests and trousers are tailored androgyny.
Colors
Alongside to black, white and black combinations, broken white and muted rose, John Rocha tells this year an unexpected colour story of perfect yellow, coral pink and weightless turquoise - some of them with hand painted patterns of broken colour blocks in violet primrose and black.

Especially for the colorful fabrics John Rocha uses layering and draperies such as on the picture below.
The angel-like look
A must-have in fashion 2009 are angel-like dresses in nude style with a floral sculptured skirt.

fig.: John Rocha spring/summer 2009, London Fashion Week, September 2008. (C) Catwalking.com
John Rocha is born 1953 in Hong Kong and moved in 1970 to London to study at the Croydon School of Art, London. His wife Odette is his business partner and muse. John Rocha creates fashion, interiors, architecture, crystal, jewellery ... www.johnrocha.ie.

Video: John Rocha spring/summer 2009, defilée with designer John Rocha at London Fashion Week, September 2008