FASHIONOFFICE INSIGHT
by publisher Karin Sawetz
Sept 2008


Homeland

Once, a journalist from an Austrian daily newspaper has asked me why fashionoffice is reaching over national borders. I answered: "We are working exclusively online. In this space it belongs to the content who you can reach and not to the possibilities to distribute the content."
Fashionoffice.org's virtual homelands are the United States 23,55%; Germany 10,86%; United Kingdom 5,33%; Austria 4,13%; Canada 3,27%; South Korea 3,15%; Japan 2,64%; ...
In Real Life we have our base in a more than 100 years old house in the 11th district of Vienna, called "Simmering"; the name of our street is "ravelin". When I have to spell my street's name I use to say "ravelin, such as rave and line, but without an 'e' in the end"; although "ravelin" is French and means "protective wall". In our case it was built to test weapons. It could be that parts of the house are made of bricks from this "ravelin" of the 18th century.
Languages
Today, in capital cities the English language is for many inhabitants the "second" language. Thankfully my English is not good enough to size up how harmful it must be for native speakers that their beloved language is spoken mostly so bad.
The readers of fashionoffice.org receive the content with 56% on computer systems/browsers which are set up for English language, followed by 19% German (here you can find Germans, Austrians, Swiss), 3% Korean, 3% Spanish, ...
EN 56%, DE 19%, KO 5,%, ES 3%, FR 2,5%, PL 1,7%, RU 1,2%, IT 1,1%, …

Global Agenda
"It's simmering in Simmering," proclaimed Joy Division/New Order when they had given a concert in Vienna. This was around 20 years ago - and such as the music world was already globalized at that time, the media world has broken through national borders in the last 10 years.
The fashionoffice readers are interested in themes around fashion, beauty, design, art,... They are coming from many different countries and they are speaking various languages. But the same interest about international trends has strengthen their vocabulary for reading about fashion, beauty and has brought them to fashionoffice.
The results of the Styletrends Survey 2008 show that the preferred subjects to speak about are "fashion", "love", "art", "design", "music" ... Read more about on fashionoffice.org/survey.

Agenda Setting
For sure, we are working for our readers and trying to collect information according to the preferred subjects; but a lot of work remains for defining what is of interest in the fields fashion, design, ... So we set the agenda such as traditional media. One of the themes we are setting this month is about the trendiest style for moving from one place to another in capital cities. You are invited to check your style styleradar.com!
In October the newest mobile concepts will be presented at the Paris Motor Show. We will publish soon a short preview. Articles about the US label Esprit, the young t-shirt label Mazooka, Jessica Simpson, trends by Make Up For Ever, Annemarie Börlind, Ring Leader Urban Jewellery at London Fashion Week, ... will follow in the next days.
Check out the current trendletter fashionoffice.org/trendletter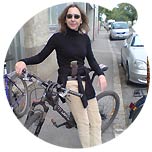 fig.: On the picture you can see me on my Scott bike (scottusa.com). I take it for short distances instead of the Mercedes SLK or the Piaggio 125.

It's not a secret that I love everything that has wheels; this has nothing to do with the patron saint of my first name Karin, Catherine of Alexandria, who is symbolized by a wheel in illustrations; although I am very glad to have such an impressing and to my daily job fitting patron saint like Catherine. Philosophers, couturiers, ... are placing themselves under her patronage.
Dr. Karin Sawetz, founder and publisher of fashionoffice.org (since 1996), is journalist, media researcher and fashion scientist.

Karin Sawetz has a diploma from a higher-level secondary college for the fashion and clothing industry. She was awarded with the first prize for her design of the male work trousers for the OMV filling stations (OMV is Central Europe's leading oil and gas group) - the design has been realised. Before and while studying for the diploma she was designer for her own label, which she has presented international.
Beneath her studies at the University of Vienna she worked as costume designer for theatre and film, was civil servant at the Austrian Federal Ministry of Economics (Department Fashion & Textile Industry), ...
After she has finished her studies at the Institute for Journalism and Communication Sciences, the Institute for Film-, Theatre- and Media-Sciences, the Institute for Philosophy at the University of Vienna, and the Institute for Artistic Sciences, Art Education and Communication, Department for Cultural and Intellectual History, at the University of Applied Arts, she was lecturer at the University of Vienna and the Vienna Chamber of Commerce, published scientific studies, ...
In the last years she focused her work on fashionoffice.org as an international magazine and organization for intercultural approaches in fashion and art.


More publications> sawetz.com/publications.htm