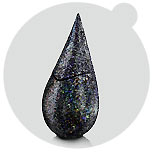 LA PRAIRIE 2008


Midnight Rain
In late September 2008 the new Midnight Rain fragrance by La Prairie premiered. The idea for the new piece of the Rain collection was that most women have two sides: cool and controlled on one side, flirtatious and passionate on the other.
Midnight Rain was formulated by perfumers for the passionate side and becomes the sexy Silver Rain. Silver Rain was first launched in 2005. The surprising utopian mystery of women's world of today is expressed with scents of a lush rain forest and the crisp modernity of today's sleek cities. The fragrance entered soon the "Hall of Classic". Silver Rain is a fragrance to carry you confidently through the day.
Midnight Rain is mysterious and tantalizing, full of sensuous intrigue that unleashes its seductive powers when the lights go down. It is designed for a glamorous night in town.
Top Notes: juicy watery top notes (Guava, mandarin, pomegranate, and freesia)
Mid Notes: warm textural white florals (White lily, vanilla orchid, plum flower and amber flower)
Dry Down: warm sensual woods (patchouli, vetyver, cashmere woods and musk)
The packaging of Midnight Rain has an aura of mystery. The raindrop-shaped spray dispenser is made with a holographic coating process that casts off purple, silver, magenta and gold sparks from its inky depths. It fits perfectly into the hand.


more fashion.at/mobile>>>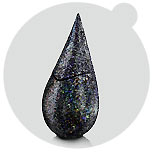 fig.:
Eau de Parfum Spray 50ml; and for the Purse 3 x 7.5 ml (one in the bottle + two refills); shop online or find your store www.laprairie.com.