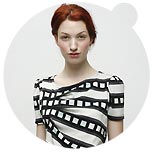 LEWIS CHO
resort and spring/summer 2009

Playful prints, cuts, Organic Bamboo Jersey, ...
In September 2008 New York headquartered Lewis Cho (founded 2005 by the designers Annie Lewis and Helen Cho) presented the new 2009 Resort and Spring Collection.
You will find romantic mini-dresses and playful tops in Apple Green, Ultramarine, Violet, with floral or mosaic prints combined with skirts, sportive shorts or Capri trousers. Lewis Cho introduce in one part of the new collection - two dresses and one top (picture on this site) - the filmstrip prints.
Lewis Cho's core collection has been updated with a new Organic Bamboo Jersey as well as Bio Modal Lycra Jersey, giving the pieces a natural and elegant drape while keeping the environment in mind.
Silk Cotton Sateen, Silk Georgette and Silk Chiffon are used for evening dresses such as the empire waist Sui Dress, the belted sccop neck Esther Dress and the breezy chiffon Thorstein Dress.
Signature Lewis Cho design elements like ruching and asymmetrical necklines are represented throughout the collection.


more fashion.at/mobile>>>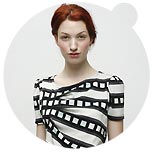 fig.: "Addison" top with filmstrip print on creamy silk cotton jersey

About Lewis Cho
Lewis Cho, specialized in a feminine, classic every day wear line of jersey tops, dresses, skirts and pants, is available in stores around the world www.lewischo.com.