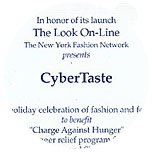 Lookonline.com publisher Ernest Schmatolla
in conversation with Fashionoffice.org publisher Karin Sawetz
Oct 2008


On occasion of the 10th anniversary of Google and the search in the oldest available Google-index, Fashionoffice.org celebrates 12 years top-relevance in 'fashion'. Although Fashionoffice.org was one of the first magazines excusively published online there were some pioneers online we respect for what they have done for the new media. Such as Ernest Schmatolla, publisher of Lookonline.com, who was the first collegue I have met online.
Yes, Ernest, time goes fast.
When have you started Lookonline.com?
Ernest Schmatolla "We were online first as a BBS in 1993 then onto the web in December 1994 but under another domain name. We had our own domain in mid-1995. So we are the longest running online fashion site."
I can remember that we have included Lookonline.com into our study "FashionAvigator" about online fashion in 1995/96; this was before we have started with our first channel fashion.at in 1996.
Ernest Schmatolla "Lookonline.com is the longest running on-line fashion publication in the world. Before there was Hypermode.com, FashionInternet.com, NYstyle.com, Fashionmall.com, Elle.com, hairnet.com, Hintmag.com and even Fashion.net, there was us. We have not always garnered the attention, funding or notoriety of some other of these fashion sites, but those in our industry, who have followed Lookonline's development over the years, know we helped pioneer the use of the Internet in providing real-time coverage of fashion events, regularly scheduled video reports, fashion blogs (DFR: Daily Fashion Report has been in blog format for 6 years and is the first fashion blog), market reports, editorial cartoons and original runway and event photography long before there were sites like Style.com or Fashionweekdaily."
Why have you chosen the name "lookonline"? Was it a call to use the internet?

Ernest Schmatolla "It was named by a well known fashion editor Susan Sommers who was my editor at the beginning of the site's history."
How did online fashion look like in 1996?

Ernest Schmatolla "Bleak! LOL I remember going to the first 7thonsixth shows and most people in fashion eyes would glaze over when you talked about the Internet."
Please tell me something about the concept of lookonline.com in 1996; has it changed since this time?
Ernest Schmatolla "The concept remains the same only the Internet has changed. We try to provide original content, informed opinion and independent viewpoint. However, we have lost most of our paying subscribers because access to fashion events have opened up widely to fashion bloggers and readers do not want to pay for what they think they can get for free. Informed opinion must compete with uninformed opinion - in the end it all just seems so much the same so why pay for it?"
Are there any key moments in online fashion?
Ernest Schmatolla "A number of our editorials that really upset some of the biggest names in NY fashion. Also we are very proud of our "Masters of Fashion Video Series" with some of the great name is fashion including Grace Mirabella who hosted some of them, inteviews with Bill Cunningham, Rose Marie Bravo, Ruth Finley, Arthur Elgort, Iris Apfel, Elsa Klensch, Ralph Rucci among others. And I am very proud of the participation of Bernadine Morris with our site and her editorial contributions."
How have broadband, video,... changed the work of fashion editors?
Ernest Schmatolla "We have been doing video reports for years and the audience for them has expanded greatly with the wide use of broadband. However, I don't think video has replaced the written word as the main source of viewers' information."
Chief editor Marilyn Kirschner is even the moderator of lookonline.com video interviews. What makes an interview proper for video? Is it the theme, the person, the situation, ...?
Ernest Schmatolla "For the same reasons it does for a written one. Obviously, seeing the person and their reactions on camera to the questions adds greatly to the viewers experience."
How do you think about the term "Web 2.0"? Some say it is only a stressed term by marketing departments to sell online activities which are common since 1996. Do you use Web 2.0 features on lookonline.com?
Ernest Schmatolla "I really don't mean what Web 2.0 refers to."
Even the term "Blog" is polarising. What are you thinking is the difference between a Blog and journalistic work?
Ernest Schmatolla "It is not the form that counts, it is the quality of the content that matters. Blogs have allowed all forms of opinion to flourish, both informed content and uninformed content."
Do you offer any Blog-contents for your readers?
Ernest Schmatolla "Yes, our main news page DFR: Daily Fashion Report at www.lookonline.com/blogger.html has been set up as a blog since early 2002 and we are truly the first fashion blog."
Pioneers like you have gone a long and hard way; prepared the tracks for the ones who followed. Do you still love online fashion?
Ernest Schmatolla "Yes I do. I have done just about everything I set out to do with my web site except for one thing --get rich!"



more fashion.at/mobile>>>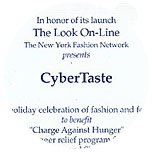 Check out www.lookonline.com



More about Fashionoffice.org celebrates 12 years top-relevance in 'fashion'