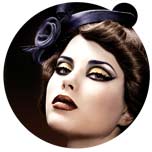 MAKE UP FOR EVER
fall 2008


The 50s Style of Hitchcock's Vertigo
Dany Sanz, creative director of Make Up For Ever, was for her fall 2008 look inspired by the international catwalks. Sanz has chosen the 50s style with its wide skirts, blouses, and belts that enhance the femininity of the body as the favorite one. Alfred Hitchcock's heroins such as Grace Kelly, Kim Novak, Ingrid Bergmann are the role models of the modern, fashionable Make Up For Ever woman in this fall.
Especially Vertigo (1958), directed by Alfred Hitchcock, starring James Stewart, Kim Novak, ... has delivered the strongest impressions. The costumes of this movie have been made by the legendary US costume designer Edith Head (1897 - 1981) who has won during her career 8 Oscars! Check out more about Edith Head imdb.com/name/nm0372128/.
Together with couturier Eric Tibusch Dany Sanz has brought the Parisian haute couture touch into the look. The creatice director entitled the result of the combination of the suspense a very female woman can provoke and the unique elegance of a Parisienne the "Paris Vertigo" look.


more fashion.at/mobile>>>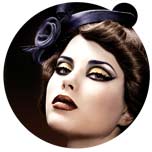 fig.: "Paris Vertigo" look
For the expressive eyes in gold, silver, black and the dark red lips on a mat powdered face Make Up For Ever has created a special product line. On their site you will find even step by step videos www.makeupforever.com.