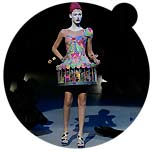 MANISH ARORA
spring/summer 2009



The Circus Collection


"Circus was a theme which I thought was easily related to everybody, it could be a child, it could be an adult, it could be all young. I think, it was such a nice theme that nobody has explored it so far as a collection, so I said, 'why not.'" Manish Arora
(Source: Video by NTDTV.com about India Fashion Week, Oct 2008)

Video: "Manish Arora Circus", Manish Arora SS09, music by the Bollywood Brass band from London, at India's biggest fashion business event, "The Wills Lifestyle India Fashion Week" on 19 Oct 2008. Video by NTDTV.com.
Manish Arora presented his "Manish Arora Circus" spring/summer 2009 collection inspired by acrobats, clowns, show animals on 30 September 2008 during the Paris Fashion Week and half a month later on 19 Oct 2008 the Circus collection was the Grand Finale of "The Wills Lifestyle India Fashion Week".
Scenes from the circus can be found embroideried and applied by hand on the predominately blue, pink, gold and ivory colored pieces, bejeweled with Crystallized - Swarovski Elements. Digitally printed sequin as well as traditional Indian gota embroideries (applied ribbons on the edges of the sleeves or length of a skirt) are important elements in this collection of mini skirts, voluminous jackets, ruffled skirts combined with clown pants, bat-wing sleeves and jumpsuits....
For developing the unique textures the designer uses ostrich feathers and leather sequins. Manish Arora uses for this collection silk chiffon, denim, net, silk, and hand woven brocades.
fig.: Rotating Carousel Skirt



About Manish Arora
The Indian designer Manish Arora founded his label in 1997. In 2001 Manish launched his second Label "Fish Fry". Two years later he opened his second flagship store in Mumbai (capital of India) and started his export business. He participated during his career in Fashion Weeks around the world such as Miami, Paris, Hong Kong, London, Bombay ...
He was awarded the best Women's Prêt Designer at the first ever Indian Fashion Awards'2004 held in Bombay. A coveted fashion jury in a leading Indian publication OUTLOOK adjudged him to be the Best Indian Fashion Designer and featured him on the cover of its March 2006 issue.
Manish Arora collaborates with Swatch (limited edition of watches), Reebok (Fish Fry), Inspecs (eyewear), MAC Cosmetics, the renowned Japanese artist Keiichi Tanaami for his FW 2008/9 collection, with Walt Disney to design a range of garments part of his FW 2008/9 collection ...
Check out details on www.manisharora.ws.

Video: Since 2007 Manish Arora collaborates with MAC Cosmetics. This year he created the "namaste" collection for the face: lipsticks, lipglass, blushs und eyes of the Manish Arora MAC collection can be used for Indian inspired color plays. Check out the following video for a Manish Arora Mac Look with an Arabic Touch.
The Manish Arora Mac collection for the face came out in a limited edition in October 2008.