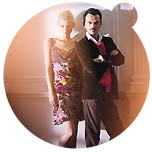 MATTHEW WILLIAMSON for H&M
spring/summer 2009


Party Fashion
The creator of colorful, sunny party collections, British designer Matthew Williamson is H&M's next guest designer for the women's and - exclusively for H&M - his first ever men's collection.
Matthew Williamson's worldwide career started with a bright colored collection modelled by Kate Moss, Helena Christensen and Jade Jagger in London in 1997. Last year he was honoured with the exhibition "Matthew Williamson - 10 Years in Fashion" at the Design Museum in London. In September 2008 he has shown his collection at the New York Fashion Week.
Williamson's fashion is synonymous to the party lifestyle of the global traveller.
"Matthew has such a good eye and a way for working with prints that he mixes up in a new way. When he combines these things, you get a very contemporary London look. It's for people who want to look special, but his clothes can also be worn in a nonchalant way- you can really play around with them. He is fantastic with piling on colour - it's a very stylish collaboration for H&M, and very much in line with the way we're thinking about fashion for spring/summer," says Margareta van den Bosch, Creative advisor at H&M.
"It is an incredible opportunity to be working with H&M, creating a 'Matthew Williamson for H&M' capsule collection. I love the fact that H&M have created a new phenomenon in fashion through the pioneering concept of collaborating with high-end designers to create one-off limited edition capsule collections. I am thrilled that my creations for H&M will be accessible to and hopefully enjoyed by so many people around the world," says Matthew Williamson.

more fashion.at/mobile>>>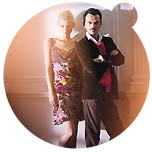 fig.: A preview to the H&M collection by Matthew Williamson gives you following image: model Veronika Fasinova wears a dress from the new design collaboration spring 2009.; on her side you can see Matthew Williamson. Photographer: Magnus Magnusson
The women's collection will be available at selected stores starting with 23 April 2009, the men's and women's summer collection comes out in mid-May in all H&M stores world wide www.hm.com.


Video: Matthew Williams spring/summer 2009 at the New York Fashion Week in September 2008, by youtube.com/user/ErichBen.