Media information, October 2008

Fashionoffice.org celebrates 12 years top-relevance in 'fashion'
On occasion of the 10th anniversary of Google and the search in the oldest available Google-index, Fashionoffice.org is proud to celebrate 12 years top-relevance in 'fashion'.


Fashionoffice.org celebrates continued international top-relevance in the category 'fashion' since 1996. With the anniversary-search of Google.com in their oldest available index (January 2001) you will find out that the magazine ranked with the "mother" of all Fashionoffice channels fashion.at on the 3rd place of about 6,840,000 results for 'fashion'. Today, the magazine is still on the first site of 450,000,000 results on worldwide searches for 'fashion' in Google; although Fashionoffice.org is not a partner in Google's ad network for placement-targeting. In October 2008 Fashionoffice is listed on Msn.com 'fashion' as the first of 264,000,000 results.
Founded in 1995 with the extensive "FashionAvigator"-study about fashion online, Fashionoffice was in 1996 one of the first fashion magazines exclusively published online. Soon the magazine has established special channels about fashion, art, luxury and beauty and received several prizes such as the 'Angel of Fashion Award' in 1996.
"Probably one of the reasons why Fashionoffice has gained this top Google position over so many years is that it is not a loveless copy of a printed edition and has never followed the idea to become a copy of a traditional magazine; Fashionoffice is an authentic online magazine, born of the internet with all the features we love the media for: text, image, video, music, interaction," publisher Dr. Karin Sawetz assumes about the success of Fashionoffice.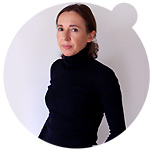 Dr. Karin Sawetz, founder and publisher of fashionoffice.org, is journalist, media researcher and fashion scientist.

Karin Sawetz has a diploma from a higher-level secondary college for the fashion and clothing industry. She was awarded with the first prize for her design of the male work trousers for the OMV filling stations (OMV is Central Europe's leading oil and gas group) - the design has been realised. Before and while studying for the diploma she was designer for her own label, which she has presented international.

Beneath her studies at the University of Vienna she worked as costume designer for theatre and film, was civil servant at the Austrian Federal Ministry of Economics (Department Fashion & Textile Industry), ...

After she has finished her studies at the Institute for Journalism and Communication Sciences, the Institute for Film-, Theatre- and Media-Sciences, the Institute for Philosophy at the University of Vienna, and the Institute for Artistic Sciences, Art Education and Communication, Department for Cultural and Intellectual History, at the University of Applied Arts, she was lecturer at the University of Vienna (online market research) and the Vienna Chamber of Commerce, published scientific studies, ...

In the last years she focused her work on fashionoffice.org as an international magazine and organization for intercultural approaches in fashion and art.

More about her publications> www.sawetz.com/publications.htm
Download images:

Screenshot Googe 2001 'fashion'
Screenshot Google 2008 'fashion'
Logo Fashionoffice



Search Google in January 2001 google.com/search2001.html.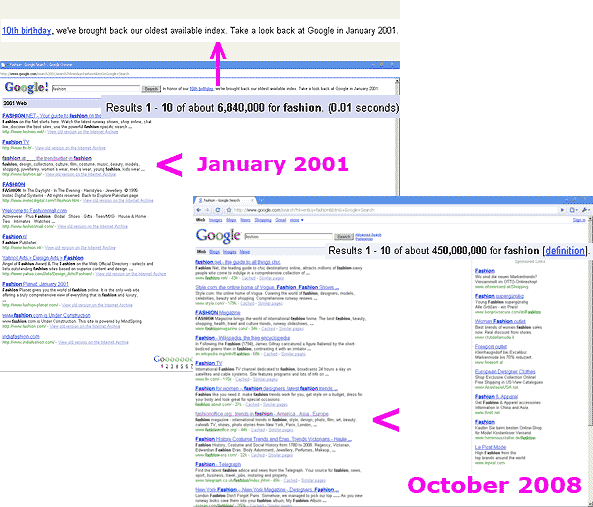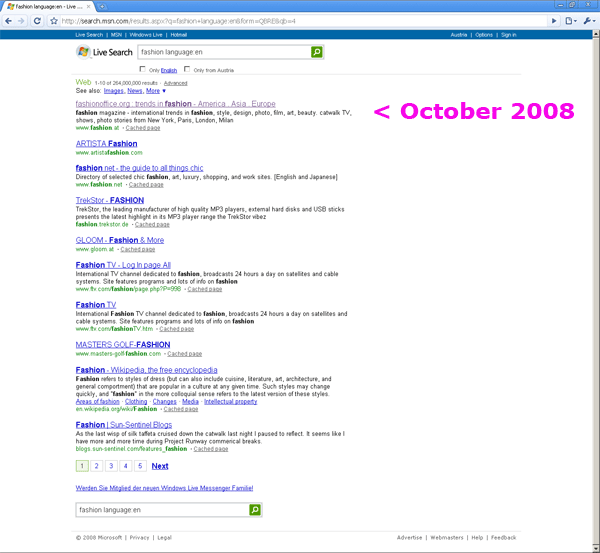 Search in msn.com "fashion":
1st of 264,000,000 results