Media information by Fashionoffice.org, Dec 2008


New Tools for Publishers and Media-Planning
Fashionoffice.org uses the best tools to work with other publishers for extending reach

'Mashup' information for readers
Never before it was so easy to work together and earn money by providing content for other media. Today it is common to embed videos delivered by international broadcasters or include text, image, audio information (RSS, widgets, radio players) from other sources as a 'Mashup' of information for the users of a journalistic online-media. With the new advertising-tools broadcasters and other publishers can extend their 'physical' reach and get paid by the views their own productions gain online.
'Non-Linearity' of online-media
Non-Linearity is an essential knowledge for producing and monetizing online content. Publishers are aware that users don't enter an online magazine on the first page and leave it on the last because online (editorial) media don't have a first and last page. In general the user comes from search engines, bookmarks or hyperlinks to selected sites for reading two, three articles or consumes the information via syndicated video, RSS, widgets …. This user behaviour has already changed the thinking of marketing specialists (SEO) and media planners.
Media-Planning in times of Non-Linearity and Mashup
Traditional media-companies plan their client's budget after (mostly oral, regional) surveys about the recognition of selected media titles. In times of Non-Linear media and Mashup these methods don't bring any results.
People don't use the internet regional. The German based partner of Neo@Ogilvy, planetactive (Jul/Aug 2008; planetactive.com) has found out that Swiss users are consuming in 44% of their time online content from other countries than Switzerland. The same happens everywhere in the world. The effect is that magazines with content produced for international readers are even consumed worldwide: Fashionoffice.org users come from the United States 23,55%, Germany 10,86%, United Kingdom 5,33%, Austria 4,13%, Canada 3,27%, South Korea 3,15%, Japan 2,64% ...


Online users are searching after information and not media titles.


How can media planners go on counting reach after traditional survey methods for a media world which has changed its distribution - keyword: Mashup?
"For many of my favorite magazines or portals I don't know the address or the exact name; I go there by search machines, bookmarks or navigate with the help of newsletters. Now, in times of mashed up content, a magazine can reach out over the own URL. With services like RSS, widgets or video content every other publication can transport information and advertising. So we have mashed up for an editorial about a renown Indian designer a report by a broadcaster specialized in Asian and Western societies, or for an article about new shoes an interview by a Canadian broadcaster. Today it is common to embed content from other media and extend their reach. This is one of the reasons why Fashionoffice.org offers the RSS service which can be embedded even through a stylish widget," publisher Dr. Karin Sawetz.


Fashionoffice.org's different editorial strategies
for the Trendletter, RSS and the mobile site

The Trendletter
Since 12 years Fashionoffice.org offers the service of collected news in a Trendletter by email. The difference to RSS and the mobile site by Fashionoffice is the thematic connexion. The editorial policy of the tri-weekly Trendletter is to collect news after selected themes which become obvious in the Trendletter.

"The editorial strategy is important for the understanding of contemporary fashion which has to be read like contemporary art; even if the readers don't recognize the strategy at the first moment. The articles on the headline site of www.fashionoffice.org are chosen after selected themes such as the influence of religion on fashion, gothic and fashion, femininity in art ... The positive effects of 'thematic bundles' are: the understanding for themes like 'Organic Expression' grows which enhances as a consequence the meaning of each article of the 'thematic bundle'," publisher Dr. Karin Sawetz.

Since 1996 Fashionoffice.org publishes exclusively online editorial content about fashion, art and beauty as social determinants with a strong focus on gender related aspects including women as well as men.

"We are monitoring the interdependencies of fashion and society; but exclusively the good looking," Dr. Karin Sawetz.

Check out the current Trendletter with the main theme "Sportive Adventures" and the letters from the last weeks with titles such as "Religion and Fashion, Organic Expression", "Art about Femininity, Art on Shirts" ... at fashionoffice.org/trendletter.


RSS and the mobile site of Fashionoffice.org

The "headline" policy on Fashionoffice.org's mobile site
Since October 2008 Fashionoffice.org publishes selected news edited especially for mobile phones with appropriate layout and text including music and video for smaller screens on fashion.at/mobile.

Brand new for the magazine is the creation of common headlines such as 'Choose after your personal preference: pleasure, love or pain', 'Heating up the Dancefloor!' or 'The Reinvention of Man's Body'. Fashionoffice.org online uses the credit (name of the designer or exhibition) as the headline. Fashionoffice.org's new platform for mobile phones induces headlines with more information about the "story" than the "source". This is caused by reading the mobile site which has much more in common with traditional linear media such as printed newspapers or TV than with using the Internet. The reasons are: the smaller screen reduces the layout and the small keyboard is perfectly only for the easiest navigation. On the headline site of fashion.at/mobile self-explanatory pictures with credits are now replaced by extended headlines.

The idea for the daily news feature
"At first we thought a fashion magazine wouldn't need a daily news feature; but we are producing so many news and have so many more different readers than a regional newspaper – in two months fashionoffice.org has 82% new visitors – that RSS is a very adequate way to inform our readers," publisher Dr. Karin Sawetz.

In September 2008 the worldwide fashion magazine started the RSS opportunity as the forerunner for the mobile site. One month later the layout for the mobile site was created in the colors yellow and pink of the favicon - the favorite icon which appears in the browsers beneath the URL-title fashionoffice.org.

fashion.at/mobile is easy to read: the white background of the screen with the dark blue letters, flashy blue and purple pink hyperlinks are similar to the layout of the cover site of fashionoffice.org itself. With the yellow navigation bar fashion.at/mobile appears very sunny on the phone. By entering the mobile site the headlines of the selected news will welcome you; when you click them you will get the articles with image and mostly a video.

"RSS and the mobile site are even great to deliver Maxxmo's music tips: the content of Maxxmo's radio changes very fast and is not archived. With RSS and the mobile site fashionoffice users can enjoy once or even twice a week new music selections which we collect from fashion parties, trendy events, independent labels, charts of edgy brands and tips from leading designers," publisher Dr. Karin Sawetz.


Fashionoffice.org celebrates 12 years top-relevance in "fashion"

In 2008 Fashionoffice.org celebrates international top-relevance in the category 'fashion' through 12 years. With the anniversary-search of Google.com in their oldest available index (January 2001) you will find out that the magazine ranked with the "mother" of all Fashionoffice channels fashion.at on the 3rd place of about 6,840,000 results for 'fashion'. Today, the magazine is still on the first site of 450,000,000 results on worldwide searches for 'fashion'.

Founded in 1995 with the extensive "FashionAvigator"-study about fashion online, Fashionoffice was in 1996 one of the first fashion magazines exclusively published online. Soon the magazine has established special channels about fashion, art, luxury and beauty and received several prizes such as the 'Angel of Fashion Award' in 1996.

"Probably one of the reasons why Fashionoffice has gained this top Google position over so many years is that it is not a loveless copy of a printed edition and has never followed the idea to become a copy of a traditional magazine; Fashionoffice is an authentic online magazine, born of the internet with all the features we love the media for: text, image, video, music, interaction," publisher Dr. Karin Sawetz assumes about the success of Fashionoffice.


more fashion.at/mobile>>>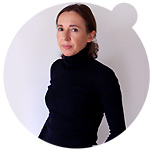 fig.: Dr. Karin Sawetz, founder and publisher of fashionoffice.org, is journalist, media researcher and fashion scientist:

Karin Sawetz has a diploma from a higher-level secondary college for the fashion and clothing industry. She was awarded with the first prize for her design of the male work trousers for the OMV filling stations (OMV is Central Europe's leading oil and gas group) - the design has been realised. Before and while studying for the diploma she was designer for her own label, which she has presented international.
Beneath her studies at the University of Vienna she worked as costume designer for theatre and film, was civil servant at the Austrian Federal Ministry of Economics (Department Fashion & Textile Industry), ... After she has finished her studies at the Institute for Journalism and Communication Sciences, the Institute for Film-, Theatre- and Media-Sciences, the Institute for Philosophy at the University of Vienna, and the Institute for Artistic Sciences, Art Education and Communication, Department for Cultural and Intellectual History, at the University of Applied Arts, she was lecturer at the University of Vienna (online market research) and the Vienna Chamber of Commerce, published scientific studies, ...
In the last years she focused her work on fashionoffice.org as an international magazine and organization for intercultural approaches in fashion and art. More about her publications> sawetz.com/publications.htm