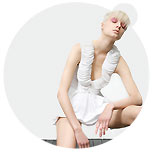 NICOLA FINETTI
spring/summer 2008/9


Adding dimensions by the physical expressions of a fabric
Australian designer Nicola Finetti presented his spring/summer 2008/9 collection at the Rosemount Australian Fashion Week in August 2008. Finetti explores the unknown and pulls a modern neoclassic twist on timeless pieces by cleverly manipulating fabrics.

Therefore he creates tied tucks, grid-based patterns and three dimensional designs with curved lines. One of the timeless pieces he is working on is the traditional English smocking, even known as tuxedo. By integrating elements of this male suit into female pieces - such as the white dress shirt with the pleated front or the black/blue dress (pictures on this site) which looks as if it is made of black silk bow ties - he brings them to a whole new level.

"The collection is about discovering the hidden dimensions of clothing and the body. ... The space between reality and fantasy is a place to explore which will provide an untouched vision of clothing." Nicola Finetti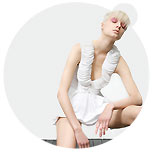 fig.: photo Jamie Williams
About Nicola Finetti
Italian born and now in Australia living designer Nicola Finetti launched his label 1995. Nicola Finetti studied architecture in Rome, then he moved to Buenos Aires. Eight years later he started his fashion career in Australia. 1997, two years after the launch of his label, he opened his Woollahra boutique. nylon Flocks and aXessory are two other lines by Nicola Finetti.
Nicola Finetti is available worldwide www.nicolafinetti.com.



Video: Nicola Finetti SS8/9 at the Rosemount Australian Fashion Week (RAFW) 2008, 13 - 17 August 2008 rafw.com.au