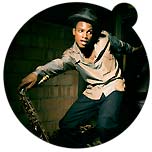 OntFront
spring/summer 2009


The Visualization of 100 Years Jazz with Fashionable Pieces
OntFront's second collection 'Midnight Sessions' is inspired by the creative atmosphere of the underground jazz scene in the 1920's.
fig.: Trench Shirt from the "Midnight Sessions" OntFront SS09 collection
Inspiring Music
Music was already in the last collection for FW8/9 a theme: designer Liza Koifman created the English tailored 'Hooded Blazer' with embroidered headphones and mini jack plugs on the draw strings.
The Design Concept
Koifman continues her vision of combining classical and timeless tailoring with innovative street style. By being inspired for the SS09 collection by musicians like Count Basie (1904-1984) she realizes her concept of designing along a timeline and visualizes her documentary of jazz from the beginning of the 20th century until our days with fashionable pieces of trench coat, blazer and dress shirt which she mixes up with modern pieces like the baseball jacket and hooded sweater in silky smooth cottons, classic pique and shiny satins. You will find in this collection OntFront's signature - unexpected - details like the mini-jack plugs and tricot cuffs.
Video: Charlie Parker, Session
Sonny Rollins (born 1930 in New York City) is one of the musicians who inspired OntFront designer Liza Koifman. Rollins followed the musical tradition of Charlie Parker.
"A lot of great musicians inspired me for this collection. For example: Sonny Rollins, Jelly Roll, Count Basie, Tommy Flanagan and Benny Carter. I love the way they wear perfect tailored clothes, while still looking creative and rebellious. I wanted to translate this attitude into my collection. I was thinking about cities like New Orleans and Chicago. The places where new jazz sounds were born. I love the rough, sweaty and smoky atmosphere of dark jazz cafes. Where real music lovers come to sip on old whiskeys and smoke some sigarettes and listen to funky musicians improvise and create new sounds. I tried to take this feel and make it modern. Put some street influences to it." Liza Koifman
Liza lived in St. Petersburg until she was nine. Then she moved to the Netherlands where she is currently based. In 2007 Liza graduated in art direction from the Netherlands Film and Television Academy in Amsterdam; her specialization was costume design.



more fashion.at/mobile>>>



About OntFront
Founded in 2005, OntFront started as an underground platform for young artists, fashion designers and musicians. After three years of being surrounded by creative talents, OntFront decided to design clothes. Aware of the fact that the clothing industry is oversaturated as it is, OntFront came up with a fresh concept to contribute to the market.
What do you wear when you're grown too old for your neon one-liner t-shirts and you don't want to wear a suit? And what do you wear when you want to look sharp, but not stiff?
So OntFront created 'Sidewalk Tailoring' by combining classic suit tailoring with cutting edge street influences. In june 2008 OntFront launched it's very first piece: A fully lined pinstriped hooded blazer with embroidered headphones on the hood and golden plated mini-jack plugs on the strings. This item became an instant hit in the Netherlands, Belgium and the UK. Eight hundred pieces were sold within the first month.

Check out more about www.ontfront.com.